Do all the things like ++ or -- rants, post your own rants, comment on others' rants and build your customized dev avatar
Sign Up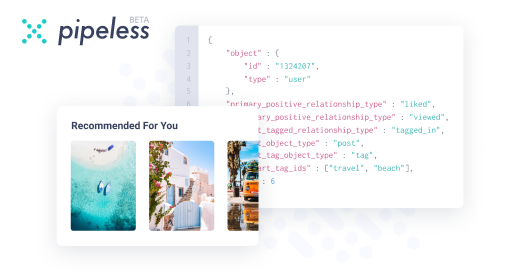 From the creators of devRant, Pipeless lets you power real-time personalized recommendations and activity feeds using a simple API
Learn More
Oh it has a big scroll wheel on the numberpad for the volume, which is nice, as it saves me having to either use my remote control, or mouse to adjust the volume on the main screen. (Because there is no volume control on the other 3 monitors !!!)

And if you press it down, it mutes the sound, which is really handy if the phone rings suddenly/etc.

Though having said that, the power switch to my music centre is right by my desk so I usually kill the sound that way.. (That is after all, why I placed it there in part !)

Oh another thing I don't like about it..

Stupid extra light on the front !

Maybe I can cover it with some insulating tape..

Thing I do like about, left handed numberpad !

Now I just need to learn to use it..

Not only left handed number pad, but the arrow keys are still on the right where I want them, not on the left too like many left handed keyboards !

I wonder how many years it will take me to remember which key is which on the numberpad..

What else have I noticed..

Well..

When I go for the left shift key, I naturally feel my way to the edge of the keyboard.

Except, it isn't there anymore, there is a numberpad instead !

So my hand wants to wander further to the left before it suddenly remembers, hey wait, this left shift key seems an awful long way away !

So, that natural edge of the keyboard is now gone..

Also means, no right hand press of the enter key on the numberpad easily when your hands aren't on the keyboard..

Maybe it needs just one more column of keys on the right..

Eg.

-

+

Enter

What do you'll think ?

2y

Everyone else:

1) Buys keyboard

2) Plugs keyboard in

3) Enjoys keyboard

Nanos:

1) Buys incorrect keyboard

2) Essay of 99 problems and diy rigged fixes

101) Doesn't enjoy keyboard

@Nanos

: You're doing it wrong!

2y

So is it a blue key or brown?

Btw I too am buying myself a new keyboard... Bit low on budget so ₹1800 i.e. $25 or so. Blue(not cherry, jixian) keys, backlit(some rainbow kind of shit), multiple levels of brightness and all... Brown key were not available on this cheap model. I was planning to go with each key individual rgb but that went to ₹3100 close to 1.75 times of cheaper keyboard... Wdy think about it?

I like your keyboard though...

Also, over time one doesn't need to look at keys after getting suited to the board... So I guess by the time you plan everything out, you'd already be comfortable with it

@gitlog

> is it a blue key or brown?

As mentioned, blue. :-)

(You didn't read the whole thing did you.. :-) )

I did ponder brown and got one of those several key test boards, I thought brown would be too quiet.

Blue isn't as loud as I thought it would be, but I do like some audio feedback.

@Root

Or everyone just makes shitty products. :-)

On the plus side, it means if I design something, its going to be fantastic !

Currently working on a vehicle..

@gitlog

I think it can take a long time to remember where all the keys are, after all, I don't use ` very often, as such, I have to look at it from time to time and think, now where is that funny symbol again..

What you really need is three hands, so you always have one on the mouse and don't have to keep putting the other hand back on the keyboard..

When I first learned to use a computer, they didn't have mice, so it was all keyboard shortcuts.

But now, it seems every OS and every app on every OS has different keyboard shortcuts to learn, if they have them at all !

What we need is a mind-mouse..

Just don't sneeze when using it !

My previous keyboard cost me $1, new one on sale was like $200.

I wonder if it will last 35+ years..

So..

What is it like in use then ?

Well..

It is much easier typing 789 with my left hand and moving the mouse around with my right.

But..

The 0 key is in the wrong place !

Great for when you are using your right hand, as you can press the 0 with your thumb easily..

It really needs the keypad to be mirrored !

Eg. the 0 key should be on the right, not the left, so you can use your left thumb.

I guess no one thought about that !

And no delete left key that can be easily pressed..

I guess with the mouse having extra buttons I could configure one of those..

I guess the keyboard really needs an extra return key and left delete key on the righthand side of the keyboard..

I guess those could be compatible addons.. ?

Though I heard someone say, the keyboard doesn't work with dual 20% bits on each side !

I guess there are workarounds for that though..

@Nanos

That (installing the USB backplate) should really be a 5 minute job, so I can't imagine what you did.. but then again you also wrote about a floppy drive, so maybe there was some more magic involved in 1995.

@saucyatom

Not all USB backplates are wired the same.

When the only place for it to fit is at the bottom of the PC, with the slot above filled with a large graphic card, you need to remove said graphic card because you can't reach the sockets to plug the USB backplate plugs into.

And above that is another graphics card getting in the way. :-)

It's a bit crowded in my PC..

Which reminds me, on my to buy list, should be a magnetic screwdriver, as those screws are such a pain to fit without one !

Clearly you've had a lot built up, just a fountain of words. Also, keyboards shouldn't be that hard. Stay away from fancified common objects, it's almost always a bad thing

2y

@Nanos

well I did read and as you said that it is relatively quieter, I asked if it really is a blue key and not just a gimmick. I also searched for your keyboard and found a cherry mx red on amazon and no blue.. and thus the doubt

BTW I agree on how crappy have the keyboard shortcuts evolved into... that with some software constantly changing them makes it even more difficult

Anyhow, my keyboard finally got delivered and... I like it.. although I may take some time to get used to the function key placed where my right control was in my earlier keyboard.. and that the Super key is where the function key was; which is a bit confusing... but hey.. let's see in a week

@Nanos

PC lives at the bottom of the desk on the other side, along with its twin backup PC, aka the previous one which is now 11 years old.

Note the removable panels to aid easy access to all the cabling/etc.

2y

> Blue is loud
your Model M...

also why you ditching the Model M? Literally better than anything else on the market!

@Parzi

I want the numberpad on the left, and I want keys that light up so I can see them in the dark.

I've only seen one Model M with such a keypad mod, and none with backlit key mods..

This is what happens when you try to fix hardware like your linux distro.