Do all the things like ++ or -- rants, post your own rants, comment on others' rants and build your customized dev avatar
Sign Up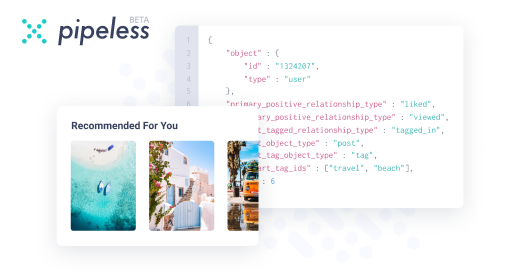 From the creators of devRant, Pipeless lets you power real-time personalized recommendations and activity feeds using a simple API
Learn More
Just fall in love with me and you'll become a romantic again. Tihihihihihi. 😜

@NoMad

The most I can do is create a pixel art of you and I probably wouldn't even get your hair and eye color right. :D

@rutee07

that's ok. My hair and eye color has been changing lately so I don't even care. 😜

Aim for long haired brunettes tho.

@rutee07

Lol wtf, you somehow keeps suprising me with your posts/comments.

@rutee07

no, but mainly because I'm against wasting food.

But here's my compromise: you don't need to cook or clean for me if we're together. 😜

@rutee07

It worked, you have been banned for life for making any food yourself. 🤣

Or maybe, and I mean maybe, it's because I'm a better cook, hands down. 😛

@NoMad

Oh yeah? Prove it. Cook something and show me. :D

@rutee07

And dont forget, mailing it to you as well.

@rutee07

don't fool yourself. Good cooking is not in the looks. It's in the taste 😜

@NoMad

Where should I go to taste this?

And kids, that's how you get someone hooked 😜

@NoMad

Very true, that reminds when of a cake i tasted some years ago at my sisters party when her first born were born, the cake looked really fancy and like some of these pretty expensive cakes. But i swear i did taste like a cardboard.

@rutee07

I'd say my home, but I'm already downsizing for the upcoming move. So, my house in 6-9 months. (pun intended)

@Frederick

I thought she baked her first born and turned it into a cake. The fuck is wrong with my brain. But yeah, can relate. I've seen a few cakes that look beautiful and taste like cardboard. I've seen some that looks simple but tastes great.

I noticed that you can't go wrong with Japanese cakes though, if you like it creamy and fluffy.

@NoMad

I hope it's possible to travel before the 69.

@Frederick

I can cook well, but I'm a moody cook. So you'll see me properly cook a few times a year, but it's normally the pizza/pasta/fried rice meal rotation. (and other stuff in the same ranks. Like, good enough to eat, but not extraordinarily in taste)

@NoMad

Honestly i really suck at cooking, but i havent really been into it yet.

@Frederick

fair, but I suggest you start eating food from other cultures and familiarize yourself with the tastes. It makes it a lot easier to find tastes that fit your mood at any point.

@NoMad

Actually i do like food from other cultures a lot, i have been traveling at least once every year until i turned 18, so i have been around a decent amount of countries and tried difference cultures, thats one of the things i miss most, about not traveling around anymore.

348d

@rutee07

come here and obliterate my ass. That'll fix it

@Frederick

OMG! Same! I want to travel again after finishing up with this degree! And I was planning for Turkey, but now that's almost impossible! I'm still praying for that covid vaccine tho. That'd make things much better.

@Frederick @NoMad

I'm a bit jealous. I wanted to start doing that this year. Now I'm waiting for some country to open their borders.

@uyouthe Don't worry. I'll open your borders first.

@NoMad

Omg, i remember one of the vactions to Turkey, were one of my best experiences as a kid, i did make so many friends at that hotel.

@Frederick

I was going there for food tbh. Maybe a bunch of historical places in Istanbul but mostly for food. God bless the east european/middle eastern/prussian influences that ottoman empire created in food.

348d

So Goff.

Might be time to start rapping.

347d

@NoMad

But... I thought be were supposed to be on a diet together...! What will

@Netikras

say?!

@rutee07

You know, food wouldn't be like that if you'd stopped putting foreign element in it!

PS: I made crepes if anyone's hungry

And no,

@SortOfTested

, not Japanese ones.

347d

347d

@rutee07

I can never eat in asian restaurants again, not imaging it.

347d

@Jilano

Dont speak with that tone of voice to your Father, go to your room.

@Jilano

sure, diet. Just so that I don't explode when I overeat once I make or find delicious food :P

347d

I'm so sorry to hear it rutee. Never be afraid to embarrass yourself. On this occasion I have a poem for you.

Oh you ruse, you beautiful ruse

The rose that blooms in two by twos

In fields of bright yellow daffodils

run, come, take off your shoes

beneath the cotton clouds, beneath the bright blues;

and all the colors, all the hues

between us and here, forever

moments shared, not spoken

are like secrets whos names live golden

undying, like our youth and the memory

of summers that once were and never again

but only in our remembering

together.

and in the remembering, we are there again

the ruse of it, the rose that blooms

in two by twos, a row among the daffodils

where we lost our shoes, and ran beneath

the cotton clouds, beneath the bright blues

still running, forever, your smile

ringing in my ears like ciccadas,

like my heartbeat when your hand pulled mine

along, "come on! come on!"

to horizons unknown, and seasons yet to be.

347d

I ran out of room but I'd like to add:

Innocence in adulthood isn't naivete. It's the willingness to look despair in the face and defy it, to strive to still remember the hope you had as a child when you looked at the world with new eyes.

347d

@Frederick

Gee, Mum! You don't understand me! *Screams and runs away*

@SortOfTested

You're just jealous! *Shrugs*

@NoMad

That's actually pretty smart. Keep everything "flexible" just in case

@Jilano

Nah, I'll just make some blintzes if I want trad crepes 😘

@Jilano

netikras says "screw diets!" :) if you start with diets be prepared to live with them for the rest of your life, or else they'll bite you hard (unless you know how to get off them properly which is not that easy). So I say screw diets, and go taste the world and enjoy your life!

Start with

@nomad

's meals :)

@netikras

I'd argue that you shouldn't screw diets tho. Because then you have to work out much more. Or you'll get diabetes. Do everything in moderation. And if you need to occasionally eat your heart out, then you have to go on diets sometime too.

@NoMad

Hmm.. I wouldn't call "eating less" a diet :) It's just amount of the food you consume. Make that amount little enough for a week or so and you will naturally struggle to eat more than that since ('cuz stomach volume shrinks down). So I wouldn't call "eating less" a diet.

Which is exactly what worked for me.

I couldn't stand the thought of getting married to some diet, saying no to some kinds of foods. I like to taste. I like to enjoy the taste. And I used to eat my heart out every time I tasted something nice, like my wife's stews. I'm still eating all I want, just less. And I'm not working out like at all, unless you call walking a few km each day a workout. And my weight got down to normal.

So.. no diets and a normal BMI is possible. Soo... screw diets :)

@netikras

it doesn't work for some people with just eating less. Just saying.

@NoMad

[updated my comment]

Fair point :)

@Wisecrack

Thank you. I wish

@Jilano

has more talent like that but all he does is poke his belly button and chase everyone to sniff his finger.

@SortOfTested

I've been making a lot of those thin ass pancakes with condensed milk. I know it's not a crepe but the one store selling crepes and cream here is still closed. 😷

@netikras

I tried keto for a couple of months before but stopped because I couldn't surrender other types of food like cake. Sure, there are keto versions of them but they are often too expensive. Also, I live in a place where almost everything you order is served with rice so the only way to keep up with the diet is to cook all the time or order planned meals (expensive).