Do all the things like ++ or -- rants, post your own rants, comment on others' rants and build your customized dev avatar
Sign Up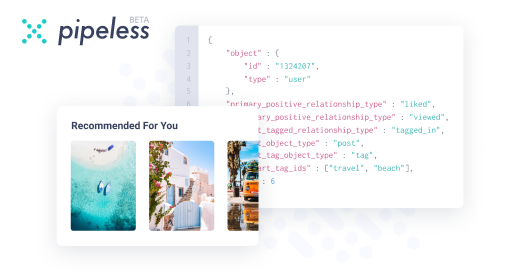 From the creators of devRant, Pipeless lets you power real-time personalized recommendations and activity feeds using a simple API
Learn More
Github won't delete it's data rabdomly

I use Microsoft Team Services, Free for five users + free private repos (git repos)
Github is great, we used Gitlab locally, didn't really like it
If you want private repos checkout bitbucket or MS team services, if you don't care then just to with Github

GitHub for public/open source. Gitlab for private projects. Just what I do.

Bitbucket, seriously.

If you don't care about everything being public unless you pay, github.

If you're a student you can get free private repos on GitHub, otherwise you have to pay. Gitlab is free private repos for everyone. I prefer GitHub's UI and it's just way easier for me to find stuff I need. Gitlab has been weirdly laggy whenever I use it.

@ewpratten

Search GitHub Student Pack on Google. There you'll find a page where you can apply by using a school email, or if you don't have one, a photo of a proof that you are a student will suffice.

what about dropbox? (ok enough trolling)

Besides the whole losing-data-from-a-production-server thing, I really like GitLab. Their pipelines are great, you can even set up your own docker registry for a project, and it's really well integrated into the system. I like that, unlike GitHub, the social network aspect of it is very minor. It's totally open source, unlike GitHub.

Also, they fucking livestreamed their recovery from that disaster in production. That's transparency.

Don't get me wrong, GitHub has its place too, but frankly its resemblance to a social network is a big turn-off. I don't like its gamification of productivity (the commit activity that's fairly prominently displayed on your profile). I don't like that it's expected to be your portfolio, and that people feel like they have to work to make their profile look good.

Just my 2¢.

What is this git stuff you guys talk about? Git is a bird and we use a combination of Skype, dropbox, email and text editor, and for version control, we get together with our desktops amd scream at each other.

If you think its important that your data isn't "deleted by accident" you should probably avoid gitlab.

If you think it is important that you can access your data most of the time then you should probably avoid github.

I prefer gitlab for personal projects. Most of all I like the term "merge request" better than "pull request".

I also like the boards and issue tracker better than Github. Also Gitlab is more open then Github about the behind the scenes.
And with the new UI I think gitlab is gonna win of github on a lot of fronts.

5y

GitHub for public repos

https://gitea.io/

for private repos (easier and faster then GitLab)

5y

Hands down gitlab, I really like the updates that got released the last months and it is open source.
I host my own gitlab site and even customized it. I can now open files in my ide through gitlab with one click.

@Falk

Ooh, nice! How was setting that up?

@derTuca

it's now working. Do I need my actual account to use my school email?

@ewpratten

I think you need to either add your school email to your account, or send them proof of your student status (a photo of your student card or something like that)

Gitlab is really great! I set up our company server with a gitlab-ce install and it is really useful with all the features!

In one project we work together with an other company on their Bitbucket. It's not too bad, but if you are used to all the features from Gitlab, then it kind of sucks... 😁

I also have a Github account, but do not actively use it. I will probably add some open source stuff on there in the future. 😉

@runfrodorun that's like saying Netflix can die at any time lol

My 2p from using all of them a lot:

GitHub: I'm currently using GitHub for all public stuff because of the large user base - people just feel more comfortable contributing there than they do on other sites. I wouldn't use it for private projects though and I've not tried the new projects thing on it now (I've heard mixed things).

GitLab: very nice interface and the Kanban is great but I personally don't want to host so I give this a miss, would recommend otherwise though.

Bitbucket: I constantly debate this... With Jira it is probably an amazing tool but I miss the Kanban and some customisation options. There's plenty of add-ons for Kanbans though (some more half baked than others) and unlimited private repos.

VSTS: Obviously for businesses and teams, this is a full package and has and insane amount of customisation but can be a little too complicated in the work items section sometimes. I use this for the unlimited private repos but it doesn't allow public repos.

5y

Bitbucket doesn't integrate with Heroku so I need to pay for GitHub.

5y

@gtoff I did add another button next to "view file" and made it send the file path to an little server running on my dev machine

One thing people haven't mentioned yet I think:

You can run GitLab on your own server. Their server code is open source.

I like the Github tooling on the website for PRs, code reviews, testing integrations, it all just flows nicely. For our team we just pay per seat, and everyone is quite happy to use Github.

Self hosting is great for private/personal stuff though, and you could even use something like an old laptop to host it — as long as you take care of server management and backups. There is even an official Gitlab package for Raspberry Pi...

GitHub is more focused for OpenSource projects, and on the other hand, GitLab is oriented to project who need's more protection or privacity.

Poor man like me use gitlab when in need of private repos :p

GitHub for public projects and to contribute in other awesome projects. GitLab for private projects 😎

5y

I wonder no one has mentioned *gogs* before.
Easy setup, just a single binary app written in go, looks like GitHub and it's very fast.
If you don't want to pay for private repositories yet, try gogs first.

+1 for visual studio team services (and yes you can have also git repos)

@windlessuser

*ahum* ons of the reasons I quit gitlab was that some of my repo's went missing and support was non-responsive. And gitlab, well someone made a mistake, it happens to the best!

@gtoff Was going to type what you typed nearly exactly, thanks for saving me time and fully agreed!

@linuxxx

certain mistakes shouldn't be made when you're a crucial service like hosting millions of dollars in code lol

Host your own gitlab. I like it.

@windlessuser

mistakes like that are made by everyone both big and small. Gitlab just chose to be transparent about the whole thing. The same thing could happen at github and we may never know if they don't disclose it.

@simus

What's so bad about bitbucket?

5y

Gitlab. Because I can host it myself and have full control over it. To be honest I've got too much code that's sensitive which I don't wish to host on GitHub.

Gitlab because they have free private repos and they were completely transparent with the data loss mentioned by

@windlessuser

.

@DucksCanCode

their backups failed, what if they couldn't recover?

@windlessuser

it wasn't just their backups, it was user error because the data was deleted on the wrong database. And I'm hosting Gitlab on my own server but I mentioned that because it's something I respect

@windlessuser

they made a human error. They livestreamed fixing it and people could ask questions. They released all the documentation on what went wromg, why it went wrong and what they were gonna do to avoid it in the future.

This is something not a lot of companies will do.