Do all the things like ++ or -- rants, post your own rants, comment on others' rants and build your customized dev avatar
Sign Up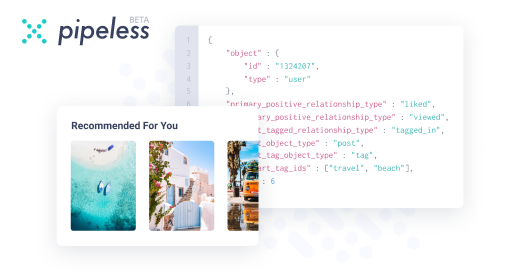 From the creators of devRant, Pipeless lets you power real-time personalized recommendations and activity feeds using a simple API
Learn More
63d

he's a primitive, so he's free game in my eyes. You can send him whatever you want as long as you do it anonymously. look out for number one there in the first place so this doesn't come back to bite you if you do...

That being said, and this is going to piss you off despite it being true, but a) bikini aren't *that* pervy by our social standards, for whatever reason you can plaster women in bikini on any billboard and it's less sexual than if the same pieces are made out of cotton... go figure... and b)If she put it on her instagram willingly then it's unfortunately public access, no matter your privacy settings, she published it to either public or a circle of friends on her own and this is what happens on the internet. c) an account linked from IG to Reddit is circumstancial evidence.

so in short, the uni nor the police can't really do much *someone* taking her public pics from a public source and putting them on another, different, public channel... not really a crime :(

63d

still, if you're reasonably sure it was him, as a software developer with at least a passing knowledge of security, privacy and networking... as far as I'm concerned... you can do whatever untrackable thing you want with him and his accounts. I'm a believer in eye for an eye, you just have to be smarter that he is

63d

I don't understand why are you and your girlfriend so riled up just because of some normal pictures which were posted publicly anyway.

Forget the police, your aim is to get that content taken down, so notify reddit. If they don't reply in a few days, send a follow up giving them a month or something before threatening to sue.

@Hazarth

the photos were already in public distribution, but now they have a much wider distribution of a certain kind, without permission, so it is perfectly justified to feel distressed. Public access is very different to public domain, and you can't expect a teenager to have full responsibility of the risks in publishing public content.

As mentioned, contact reddit as they are the service distributing the content without the proper permission. However, the content will possibly stay online forever.

@BigBallOfMud believe me I would absolutely love to but I don't have faith in my ability to do it without being traced. Also, I just got accepted into grad school and I really don't want to do anything that could potentially fuck it up

@Hazarth

I understand your points, but given that she was only 16 in most of the photos, that makes it pervy because she was a minor

@AlmondSauce

I was able to get in contact with the mods of the subreddits to take them down which was really great

I'm planning on just signing his email up for a bunch of porn sites and spam instead (if I even do it)

@Hazarth

also I'm completely sure it was him. He had a Reddit post where he asked someone to dm his person Instagram account and that post contained his personal Instagram handle

63d

@DeepHotel

so she was distributing "pervy" photos herself, so she is guilty as well...

@iiii

fuck off, a teenage have the right to post pics without thinking some old perv will touch his dick watching them or share them without authorization. Victim blaming much?

@ostream

you're mixing up rights an freedoms there.

There is not right or law that gives you the right to "post picks without thinking X"

No service does nor can enforce "oh yeah, you can post things thinking X and we can somehow magically enforce X to be true"

This is the same as saying "Dude, I jumped into the ocean with my RIGHT to not be eaten by a shark, and I was eaten by a shark... victim blaming much?!" You have to see how absurd this is. The #1 thing to prevent this isn't to enforce un-enforcable solutions, but to improve education about privacy and security on the internet. Now if her phone was hacked, I would agree with you, but it wasn't. This shit should be in the hands of public education and parents to make sure you understand the risks of putting something on the internet. not to say, it's still just bikini, people can get off to much less than that, you're never really safe... we would have to ban visual content entirely from everywhere to solve this

@electrineer

I don't think I agree with the idea of "wider public distribution" all that much... I understand that if he only posted a link to the files, then she would have to power to take them down because it would still be in her own domain, but at the same time, once it's on the internet, publicly and with consent of the author, it only makes sense that you should be able to download it and redistribute it.

I mean even big companies are trying to fight this and protect their rights to digital content using various methods but as software developers, we both understand that's completely moot. No matter what system you put in place, I can still just print screen it.... record it from the output... rewrite it.... as long as you have access to the content it's completely impossible to stop you from copying it and redistributing it as you see fit. And it's pointless to fight the impossible, instead I think the best solution is to increase education in this field.

@DeepHotel

Yeah, I know buddy. It pisses me off too tbh. Honestly if someone did this with the pics say of my sister or daughter, and I know who it was, I may or may not break both his arms and legs in a dark alley.

I've been on the internet for a reasonably long time to know the risks though, and I'm trying to educate people in my surrounding about that whenever I get the chance. In this case it's not *that* bad, it may feel dirty to your gf but it's better to not think about it too much. There's a pedophiles that literally post each other links of family youtube videos and jerk off to your family happy times with your kids... you can't really stop this from happening in the background all the time :/

think of it like covid... no one really wants it, no one is really sure why it's here or how... but it's here to stay, there's no one really to blame and we just have to live with this happening now... perversion and idiocy is kinda like that...

62d

@ostream @iiii

I agree with

@ostream

. In the situation where a adult is jerking off to bikini pictures of a minor, the adult is at fault

@Hazarth

dude shut the fuck up with your retarded comparison. Unlike sharks, the dude is legally responsible. You know, he's human.

@Hazarth

quit defending revenge porn and look up the concept of privacy. One can spread information or picture on his.her chosen channel and it doesn't fucking mean it's ok to re-distribute them without knowledge or consent.

@ostream

all I'm saying is "that's not ok" isn't going to solve the problem. There's no way to enforce any kind of law on a person that does this. You would literally have to stand a cop next to every single person on the planet. you're only outraged about this one because you know about it... guess how many picture like this are floating around on private forums, dark web and even actual hand-to-hand exchanges that you don't even know about...

so what's the point of being outraged and invoking privacy laws on an issue, that literally isn't solvable with privacy laws. Completely pointless tokenization. You can shout "it's illegal" all you want, it's doing nothing, you punish this one guy that did it wrong, and 50 others that do it right will never be caught... Start educating people on the risks of privacy however, and you'll start getting results on all fronts, do you understand what I'm trying to say?

You're literally trying to drain the ocean with a sieve here

@Hazarth

that's not how the laws work at the moment, so it's a different topic.

@Hazarth

oh that would be me I would stab the motherfucker in the neck.

@Hazarth

women should not have to change their behavior because of perverts, that's not fucking complicated.

61d

@iiii

well isn't that convenient? It's on us males to violently punish perverts, not to woman to change their behavior because of them. That's called honor.

You wouldn't know about it, would you?

60d

Man, its just okay, I am talking to the comments btw.