Do all the things like ++ or -- rants, post your own rants, comment on others' rants and build your customized dev avatar
Sign Up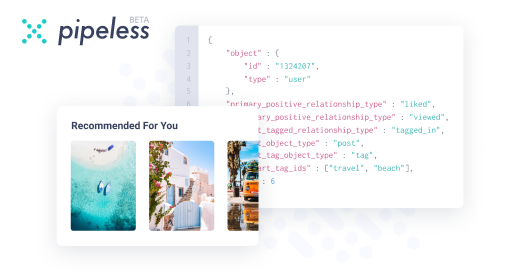 From the creators of devRant, Pipeless lets you power real-time personalized recommendations and activity feeds using a simple API
Learn More
I fell in love with Vultr 2.5$/month server
Might try out DigitalOcean when my website is ready for release.
Any noticeable difference or you haven't tried Vultr?

4y

Digitalocean is life! Although I use Amazong, I have to say I miss their simple UI.

4y

@jordinebot

Ya, I used Azure & AWS at work but they are so expensive for personal use, luckily

@Linux

recommended it in one of his rants and two months later and I like what I'm getting for that low price

Vultr <3
The $2.5/mo server is awesome

@Linux

indeed two small docker containers and running smoothly 😀

4y

Hey guys, another Vultr $2.50 server user here. Using it to host all my free code camp projects. Might make a little webserver with Go for the heck of it later this year.

4y

I also love Vultr's service. As a student, I can't justify paying more than that for something that I don't really need, just want.

@gitpush

for us at least DigitalOcean has been significantly more reliable than Vultr.

@dfox

I guess you are just unlucky then.

@Linux

maybe, but multiple issues I had with them were due to incompetence of the support person address my tickets. One time I had to spend hours to convince them that there was a hardware issue on the machine my instance was on, and the other time I had to convince them and solve for them a massive security issue in one of their products.

@dfox

I would love to have more information about that, if you have time?

@Linux

do you work for Vultr? 🤔

@gitpush

I dont :)

I work for another hosting premium provider that only offer services to other companies

@Linux

the first incident I described took place when our DB master kept losing network connectivity. I forgot the exact details, but it was very obvious to me that the problem was on there end since the network connectivity kept dropping in and out. And I also noticed that it was only happening, oddly enough, on communication in their local network, and traffic on the public ips were fine.

They had me run a bunch of tests, kept telling me they needed more info to debug. Fed up, I went on Twitter, and found one other person having the exact same issue. Turns out, his be was on the same machine mine was on. Basically they eventually said "whoops, one of the networking hardware components of the host machine broke, it needed to be replaced." Hardware problems are understandable, but making me convince them that they should take a look on their end is ridiculous.

The second incident, a security-related one, was much more worrisome and could have turned out very, very bad. Some of their customers could have easily been compromised.

Basically, I wanted to try out their newish firewall tool (firewall as a service in their admin panel). Since I had never used it before, I decided to test it before using it for a production server. And I couldn't get it to work. No matter what I did, my instance was always accessible, even if I told the firewall to not open any ports.

Figuring I must be doing something wrong, I created a support ticket. The first guy who responded talked to me like I didn't know what a firewall was. His third response was actually that they don't provide this kind of support. I said, "you don't support your own product?"

Knowing that the DC I created my instance in was out of capacity earlier that day, I developed the hypothesis that maybe their firewall feature was broken for those newly deployed host machines. I created an instance in a different DC, and to my shock, it worked as expected. I reported my findings to them.

@Linux

thought you could give me a discount on the 2.5$ server, its a bit expensive :P

They said "we're looking into it." I said this is a massive security hole. You literally have a firewall feature that isn't blocking any traffic. Any customer who sets this up now in the NJ DC will be exposed. They didn't care. No warning announcement, and they never notified anyone. They came back on Monday (I discovered the issue over the weekend) and said it had been fixed, and exactly as I had figured out for them, it was because of misconfigured host machines they set up.

That was pretty much enough for me. Not worth the risk at this point. And aside from these two issues, we also had much more periodic downtime with them.

@dfox

Thanks for sharing! This is good to consider in the future.

I have had no problem with my four year old machine that I have thou, not a single issue.

BUT, when I had my owncloud server at their storage instance stuff went downhill, but mostly due to abuse of that node which caused extremely high load (55+,55+,55+). So I bought my own physical server instead.

Regarding the firewall, I have never tested it myself, but it is good to know!

@gitpush

Promise me, If I did, everyone would have gotten discounts here ;)

@Linux

beyond just the massive exposure a lot of instances were probably under that day, the problem is that they hid it.

They didn't want to tell anyone and they refused to put up an announcement telling people not to deploy new firewalls in NJ DC. If they hid this one, that I just happen to find, I can't help but think how many other security issues they might have that go unnoticed or they just never notify customers about.

Hopefully not though.

@dfox

This is bad. But to look at the bright side, yesterday they sent an email and showed an announcement on the admin panel about network drop in Miami where my server is.

Guess they learned their lesson

@dfox

We can hope that, otherwhise I have never had issues with their support. I guess it depends on what kind of person is sitting on the other side.

@gitpush

Yeah I get that quite often too, I have a "couple" of servers at Vultr :P

I can also recommend Upcloud, they have their own storageengine that makes the VM's superdupermegafast. Really

A little more expensive thou

@Linux

Do you recommend their storage service? And can it be used as a personal online backup space?

@gitpush

Never tried Upclouds storage instance, but I use them for some databases and they are really fast.

When it comes to storage, it is much cheaper to buy your own physical server (Proliant Microserver for example) and use it. I have several terabytes of data so storing that at Vultr, DO och Upcloud would cost too much

@Linux

Thanks for the tip bro I'll go with my own instance in this scenario

@gitpush

No prob mate,

The reason for why I decided to buy my own server ($200 + harddrives = $700) was that after 15 month I would have spent more money on Vultr anyway :P

@Linux

Ya if no income from that server then no need for it. But the problem with physical server is that you need a static IP to access it outside home, in my country static IPs are a bit expensive + our internet speed is 2Mbits, imagine having to pull a file from my backup lol

@gitpush

Well, I have the luxury of working in a datacenter. So I have my static IP, anti-DDoS, power, gigabit network all for free :P

@Linux

aaand I totally forgot about DDos and firewall lol ya I better stay with local HDD backup rather than seeing my data shared online lol

@gitpush

Check out also C14 by online.net :)

@Linux

Cheep prices I see, thanks for recommending it, gotta try it out

4y

@dfox

that experience you mentioned earlier could be a pretty solid rant

4y

Try Scaleway and you will disband your new love.