Do all the things like ++ or -- rants, post your own rants, comment on others' rants and build your customized dev avatar
Sign Up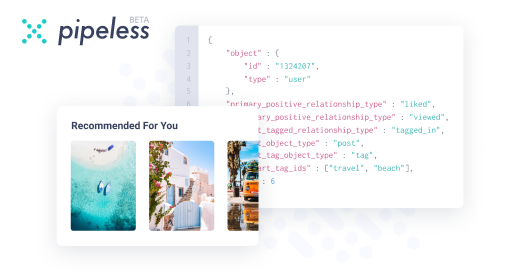 From the creators of devRant, Pipeless lets you power real-time personalized recommendations and activity feeds using a simple API
Learn More
Your first rant is really good and to the point. Welcome to devRant.

Also, I share the same feeling as you do towards"modern slavery".

welcome to devRant, friend

Try and find a better place

If you do what everyone else does, you'll have what everyone else has. If you want something different, do something different, so find someone that has what you want and do what they do.

To put it a different way: If you hang out with two millionaires, you'll soon be the third.

2y

Nice rant. Welcome to DR. You must be in Europe.

Do you live in the USA? Try moving to Sweden, I've heard a lot of good about it. I live in Germany and still have hopes of getting a good live, mainly by living minimalistically, getting a part-time job and spending the rest of my time with something I actually enjoy.

2y

Life is like a game, and some people are playing it in hard mode.
It's not fair, I agree. But we must find a way.

2y

At least I don't see you mentioned about study loans in your rant 😉

So even if you are a slave, you can quite easily be free if you are bold enough.

There are few other of us with loans tied to our necks no matter you are a company founder or an entry level clerk :3

@nanl

Agreed. Definite hardmode here. (But I'm still going to win!)

> There are few other of us with loans

> tied to our necks

I hope to have mine paid off next year, finally after more than a decade paying it off.

Lesson there, never get a loan..

> If you hang out with two millionaires,

> you'll soon be the third.

Oh I dunno about that !

I've hung around such folk for decades !

Great for advice.

Sometimes they throw you a few crumbs, eg. their old stuff for free.

And you never really have to pay for more than your first drink in the pub.

But other than that, not as much use as you might imagine for helping you get from the bottom to the first rung on the ladder.

> My boss makes a shit load of money

Lesson there, be a boss. :-)

Not so easy in practice mind you, to get into that position !

But hard to make a lot of money otherwise.

> Today I looked up houses prices and felt

> like shit. I will never in my entire life be

> able to afford something so expensive

Welcome to my world !

Where I used to live, the smallest house was over $2 Million USD..

Now where I live, same house is less than $100k

I reckon I could build it myself for 1/3 of that..

So, to afford a house, cheap land, build it yourself.

Now, where to find cheap land..

I once rented for a while, so expensive, it cost me more than twice the cost of buying a place !

Lesson there, live with parents / relatives and save the money you would have wasted on rent..

Or find a partner that lets you live rent free..

> You get out of school and what happens?

> You start working.

Or in my case..

You can't get a job because you don't have any experience..

Spend years, decades unemployed, doing anything you can to earn money, even selling your body..

Then one day, you get a 9 to 5 job, which is more a 6am to 8pm job, 6 days a week..

Just enough to pay the rent on your shack in the ghetto where you live with the cockroaches, bedbugs, fleas, rats, mice, raw sewage around your ankles in the morning..

You dream of a vehicle, rather than the 12 mile sludge up to your knees walk to the shops..

Could be worse. :-)

No more sludge walking for me, but the nearest shop is 100+ miles away..

Still no car though..

Currently trying to earn enough on my $1 USD an hour job (Recently had a 300% payrise after years!) so I can reach my retirement pension without dying of starvation in the meantime !

2y

@Nanos

soon will reach a decade. And I guess I'll go for two decades with the amount I'm paying monthly :3

> I don't want to live this life, I don't want

> to become a modern slave

FX [ Nods in agreement. ]

Any solution plans you are working on ?

I've a few projects, one or more of which may get me out of my hole.

Keeps me sane working on them.

If you haven't got any plans yourself, perhaps we can help you brainstorm something you can work on which may improve your situation.

Crowd funding can be a good source these days for startups.

Though it helps to have a working prototype, of whatever you are trying to sell. (Or take donations for..)

Any thoughts on what you might want to do ?

@XiovV i felt like my soul wrote this... dear god... we are not the only ones with common sense, but we are in minority

Thanks for the replies guys... I'll answer when I get home

op please don't delete this post, i saved it to favorites

2y

@Nanos

I think what they trying to say is that wealth is a set of behaviours and that if you spend a lot of time with wealthy people you may begin to emulate behaviour.

What made me chuckle is the suggestion that being a millionaire means anything these days. Where I live being a millionaire means you inherited a house from your parents.

> wealth is a set of behaviours and that if

> you spend a lot of time with wealthy people

> you may begin to emulate behaviour.

FX [ Nods in agreement. ]

I notice gaining wealth is very similar to programming, aka problem solving within specific system limitations.

The difficulties are when you want a 1Gb array, and all you can afford is a 1Mb one..

You know, one of the similarities I see here between wealthy folk and problem solving programmers is a helpful attitude towards others.

This is a really nice place, perhaps the last of the nice places online that I've come across.

We all try and help each other as best we can.

Well beginning career is always the hardest. First two years I was getting paid peanuts but I never settled. Changed jobs, changed countries, travelled and learned new skills. Now Im being paid enough (im saving around 2k eur a month from my job) so all I need to do is save money for downpayment and bank will give me a loan. However after focusing so much on career I didnt make any friends (also due to the fact that I was switching countries), so have to work on that because living in a big empty house in a random country doesnt make sense. So my advice is just to stick it out and build skills. Fuck your boss. Eventually if you love what you do you will be getting paid good money. My life changed when I stopped blindly following orders and started prioritizing my self development instead of getting tasks done.

@Nanos

Then you're asking the wrong questions, or not asking at all.

@tmpnull

Absolutely. Being wealthy is a mindset and a way of thinking, not the sum of your bank accounts. You can have millions and still be poor.

If you take all odd a wealthy person's assets, they will become rich again. If you give a poor person millions, they will become broke again. For proof, look at lottery winners and famous actors/athletes.

Also, being a millionaire on paper (asset valuation) is very different from having that much buying power (liquid capital / quickly liquidatable assets). Being a millionaire on paper because of your house is totally pointless: you can't sell it quickly nor invest the resulting sum because then you'd have nowhere to sleep! The value is tied up and therefore useless.

> asking the wrong questions

What are the right questions to ask ?

> Being a millionaire on paper because of

> your house is totally pointless

Sell house, move someplace a lot cheaper.

Where I live now cost 5% of what it would have cost me where I used to live once.

> If you give a poor person millions, they

> will become broke again.

FX [ Nods in general agreement. ]

2y

It's rare for a post to hit this close to home for me.
I feel this pain my friend.
There are more of us out there.

I wanted to update you all guys.

I made a jump and got a new job...

I'll let you know how it goes

@spotlight @Fabian

i live in Sweden and it is! Im only 25 years and earn a great amount of money. Rent is not that high in a high-end apt. Tho i only live in like 5th biggest city. Also our unions and privacy laws are so good it's seriously hard for a boss to fire someone unless they've Done something against someone else.