Do all the things like ++ or -- rants, post your own rants, comment on others' rants and build your customized dev avatar
Sign Up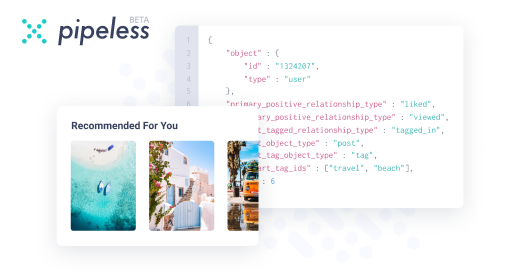 From the creators of devRant, Pipeless lets you power real-time personalized recommendations and activity feeds using a simple API
Learn More
I'm so happy for you, I wish you the best of luck in your work and life. Remember to take care of yourself!

Well done!

But there's still a lot you are to learn :) Hard work does not always pay off, sometimes it just bites you in your tired ass.

Then you stand up and try again, maybe a bit differently. And again. And again until you eventually get there.

The more you have to rely on others, the more likely your hard work is to go to /dev/null :)

I'm just saying this so you would not lose your motivation when it does not work out. Per aspera ad astra!

@M1sf3t make no mistake, I am very proud for her to claw out off that pit!! It's just very easy to lose belief in yourself when you think you have all sorted out, put ton of effort and get nothing. And this will happen from time to time!

And more importantly, WTF dude?? New acc?

2y

You could submit your story to FreeCodeCamp 😉
But seriously, well done.

> I decided that I was going to take control

> of my life

I'm really interested in those key moments in someone's life like that, as such, can you tell us more about that moment, or the events surrounding that moment which enabled you to click from one direction to another ?

My hope is that by collecting data on examples, that some kind of pattern might emerge that could be used to help others transition as well.

For the moment I know very little about those times, and can't really say to anyone, what might help them or not.

As such, any information could be useful in that pursuit.

Oh damn, this is so good to read.

So many depressed people here, and in development in general.

Gz for turning it around. Keep up the good spirit and break down every walls.

2y

Thank you.

2y

@meowijuanas

Wow, you're on the fast track.

Congrats!

To you, all of your achievements and character.

Stay safe and keep it up!

Thank you everyone for such kind comments! I was nervous to share these thoughts here but I'm glad to see such a supportive dev community.

@Nanos

I don't know that my moment would necessarily help you. I was in an extremely altered state of mind (to use family-friendly language) and fell really depressed. I kind've realized "Oh. I do this a lot so that I'm distracted and don't think about why I'm so unhappy" and once I had that thought it was like I couldn't stop. I just let myself feel bad and admitted to myself "This is a problem. I shouldn't ignore this. I need to get help". Then I thought deeper about why I was so unhappy and what things I could do to correct that. I felt spiteful that I had fallen so low mentally and that gave me enough resentful determination to "suck it up" and start "fighting back". At least that's what it felt like. Somewhere along the lines, I stopped being so depressed and anxious and angry and gained confidence in myself and excitement for my future.

> I kind've realized

That makes me think of a religious apitamee. (No idea how to spell that word!)

Eg. a spiritual moment as some would say.

Related link:

https://medicalnewstoday.com/articl...

> Psychedelic drugs 'may improve depression,

> anxiety, and PTSD'

-------

Researcher Adele Lafrance, from Laurentian University, argues that psychedelic drugs can help with psychological symptoms partly by improving a person's sense of spirituality, and how they relate to their own emotions.

-------

To me that sounds like an Eastern Philosophy approach:

Related link:

http://getwiki.net/-Eastern_Philoso...

It wouldn't surprise me if programming produces a similar effect..

Thank you, my life is very similar to yours, but everything has dragged on much more, only thanks to my girlfriend, I'm trying to get out of the shit. good luck!