Do all the things like ++ or -- rants, post your own rants, comment on others' rants and build your customized dev avatar
Sign Up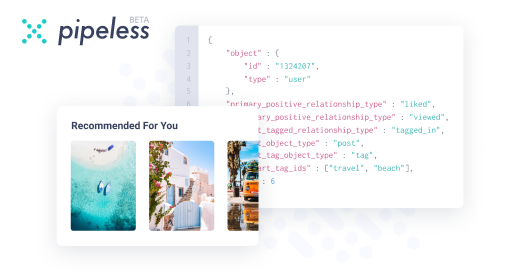 From the creators of devRant, Pipeless lets you power real-time personalized recommendations and activity feeds using a simple API
Learn More
Woah! You have a really cool story, man. Cheers to you for going through all that and still being able to accomplish what you have. Your skills (from your bio) are impressive, too!

@hacker

thanks man! Glad you liked it. It just makes me feel bad that most of my experiences have been either bad or not very pleasant. Currently where I work, they have this weird a la carte system in which any strange requirement that the customer needs has to be added ASAP. And we know how customers are.....what I really do not enjoy is how dated ASP is. It is not bad, maybe it would had been amazing if windows had stuck with it and I don't really mind vbscrip, but still, it could be better and because of the servers I cannot use the full power of JS related technologies.

Wow, I kinda feel bad haha. That's why I love modern web development! You can build a simple chat application and talk to someone across the world using it, in under an hour with Socket.IO and Node.JS!

I hope it gets better for you, bro. Keep up the good work!

(Also, you've got more than 10++'s, you can make an avatar now to give yourself a face. It's pretty sweet, hah)

@hacker

Man its even better! The basic Socket.io tutorial gets you started in like what? 10 mins? Modern web development is absolutely amazing, so many tools to use. There is such thing as JS fatigue, but that is fine, we can always chose what to use and where to learn from if given the option that is. Working with tech requirements can be a pain, and working with legacy systems can indeed be heart breaking. But what to do. I am trying to save enough money to move to a city with more opportunities such as Austin. Hopefully I will be able to find more people there.

And I will make sure to look into getting an avatar haha, thanks for the tip and the encouragement!

Good read (both parts), thanks for taking the time to post it. Sorry to hear about your bad coworker experiences (I loved the quip about using your "military voice" though)

Anyway, don't get too discouraged, as it definitely takes time to find your niche. I've been doing this professionally for about 10 years, having to use a wide variety of platforms and technologies (some of them pretty crappy ones) before settling into my current skill set.

@zourtney

thank you for the kind words and encouragement man it really means a lot. I try to keep my head up. I just get worried about liking a place too much. I know that I have thick skin and stuff like that, its just that it pains me when I find a place that I like and something like that ruins it. I wish it were just minor things like "damn that coworker farts a lot!" or "he is using tabs and messing up Python formatting, why didn't he test the code or read them guidelines" or even something like "why does he insist on using those names for his variables and methods?" stuff like that ya know? And man, about the military voice, I really dislike raising my voice at people, I actually look like a mean dude but I am a huge teddy bear. The moment this guy wanted to blame stuff on me I was like nah man, you gon learn today! What do you currently work with? I am hoping to move into a more JS centric or Python centric area soon. I would be happy to work with PHP as well.

Your story, for me, signifies both hope and caution. I'm currently learning web development with the goal of getting a job next year, and you are an example for me right now. Idk how I will cope with toxic work environments, but I guess not everything is perfect. I just hope I can work on what I love and someday use it as a tool to make my ideas come true. Good luck in your current job, I hope you can find a job where you can feel at ease :)

@AleCx04

I know of a few places (possibly remote) that could use help. Your vet status would help as the company owners are generally service disabled vets, so if all else is equal, they help their service family out. If you're interested, lmk, and I'll get you my info so I can get you in touch.

@QueenMorgana

another reason why I love devRant (people helping each other out)!

@gitcommit

I am glad it helps man! This industry can be really amazing and I know that there must be some great people out there. I just need to find that one sweet spot. Good luck with your career goals! Any particular stack you are learning??

@QueenMorgana

thank you, I am definitely interested. Working with other vets is always fun.

@AleCx04

what messaging service(s) do you use? (need to know which username to give you)

@AleCx04

I'm learning web development with django and also using css and html to make simple web pages. My first goal is to get a simple project I have in mind to production and from then, try to learn more by doing other projects and get a job next year. In the long run I want to get into data analysis but in my current situation it's quite difficult to get into professionally, as I'm studying history in uni and here in Chile, from what I've seen, data analysis jobs require some sort of reliable certification. I'm still reading some books on data science and estadistics (just got 11 from a book humble bundle at 15 bucks, I'm so excited to read them all).

@QueenMorgana

hi, sorry for the time it took me to reply. Messaging app as in viber, skype or something like that?

@gitcommit

awesome! Hope you are having lots of fun with Django, I know I love it, been a while since I did anything with it though! And as far as data analysis goes, the good thing is that you are into Python, it is heavily used with it. I am trying to study more about machine learning during my free time. Really interesting field. Que tal la vida en Chile? Siempre me ha llamado la atencion ir a conocer ;)

@AleCx04

Yeah, data science and machine learning where the primary reasons I started learning with python. Life is good here, although I'm afraid the problems we face as a country are getting worse and worse. There's a lot to see here, I highly recommend going to Las Torres del Paine, and to the Atacama desert. The cities may be fun to explore but the real beauty here is in the nature.

@AleCx04

or discord/telegram/signal/tox etc..

@AleCx04

I know what you mean about not liking to raise your voice. I'm a pretty quiet guy by nature, but good on you for sticking up for yourself. Having good coworkers makes a huge difference. I've been lucky, in this respect. Hopefully your latest job treats you much better. (Just focus on whatever positive things you can -- coworkers, tech stack, learning opportunities, etc)

Since you ask, I primarily do front-end web dev these days. Lots of Angular and React. It's a small company, so it's pretty much just me doing front-end work. It's good though: it affords me a good mix of UI / UX, appealing to both analytical and creative parts of my brain.

4y

I really enjoyed reading this. Good luck on future jobs, Alex.