Do all the things like ++ or -- rants, post your own rants, comment on others' rants and build your customized dev avatar
Sign Up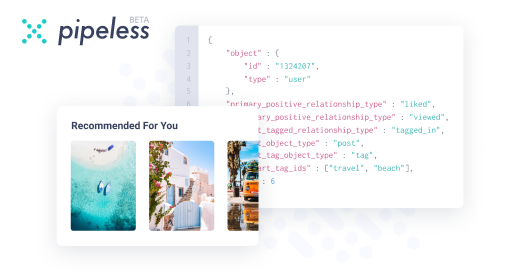 From the creators of devRant, Pipeless lets you power real-time personalized recommendations and activity feeds using a simple API
Learn More
7y

The las few days I was thinking about this, trying to imagine what a community for biologists would be like.

I also have the idea sometimes that 50% of the websites are about web development (or at least tools, frameworks or services for web development). it's like an industry that creates it's own work. infinite loop

7y

Notalwaysright.com :P

7y

Lol!

7y

Yup, had a similar moment a year ago "I just created a development tool, for developing development tools, for developers, to maybe one day develop a thing - probably related to further development".

@letmecode

sadly I am already eligible for stress ball for one of my previous rant. But

@dfox

isn't replying to my mails.... I sent a reminder mail too....

@mhocalc

do u belong to pornstar community or programmers community....?

For all the stereotypes people create about programmers, including social awkwardness and being a bunch of arrogant trolls, as a new developer I have never found a more welcoming and supportive community.

7y

Hahahahaha.

hahahahahhahahahaha right on point

I'll tell you why, because only we would want to know the computationally most efficient way to flatten a binary tree into a linked list at 3 :07am.

Btw I totally did not realize that the time 3:07am as I'm typing this!!!!!! And I chose 3:07 am because of the movie : the conjuring 1

To bad we're so sorry, unfortunatly the deadline for the none programming community plataform has been delayed yet again 😂

7y

Stackexchange...?

7y

Majorly because we don't partake in real life communities

I think this rant might have the record for most upvotes on Devrant by now

@kanduvisla

and the best thing is upvotes isn't stopping... Its growing by 5-6 each day....

@dfox

can u confirm I am the record holder with highest ++s rant?

7y

@playmast3r the top rant has 972 right now. You can look in top sort, filtered by "all."

7y

At the same time I think stack overflow sucks.
But the Brazilian version rocks!

7y

Dont build those commynities for other people. There once a guy who built something like our community for regular people. 6 milllion jews died. They are too emotional and blind. Devs question everything regular people dont.

I guess all you can find are websites powered with a forum platform... Old school !

7y

Thats damn true
We rule

@FluffyFingers

Well i must say devrant and stackoverflow are like day and night though... Stackoverflow being a col winter night, harsh but rewarding.

7y

It's already done.. stack exchange??

Marnsghol you make a valid point, stackoverflow can be a bit polarizing at times depending on who you interact with but can be a great place to gain knowledge.

@aDib

That would be the epitome of boredom and hell.

7y

7y

Wow, this rant is just 5 ++ away from 1k... Lets push it guys...

Wrong. There's facebook, for morons. Hm, built by us, though. Well, for morons by morons.

Earlier today I was trying to Invision applying an app like this to any other demographic? Any ideas anyone? I'm desperate for a startup idea...

6y

This rant looks stolen 🤔 unfortunately it has gotten more attention than the possible original

@vnwonah

Ur rant never came in my feed. I posted that on my own. I swear I didn't copy...

@aDib

This is what a biology community it looks like:

https://reddit.com/r/biology/...

"And it just so turns out that the ocean acidification from anthropogenic climate change appears to be going beyond their adaptability, putting all of them at risk of extinction." - /u/Silverseren about octopodes and squid

I feel insignificant now. :(

Because they are too busy to sit in front of screens 24/7

Service Host SuperFetch is one of the built-in programs comes with the Windows 10. It is very effective in utilizing the memory unit and the CPU cycle. As a result, it boosts the device's performance. However, some of the difficulties, such as the pre-loading app, the memory blockage issues, etc become common while you try to launch a new file in your system

https://techcloud7.org/blog/...

4y

And we shouldn't!

Haha! It's not even a lie :-D

4y

hahah they are not worthy.

4y

send that good man a beer!

holy effing shit I didn't think about this rotflmao!!! we're EVIIIL!!!

Everyone else has Whatsapp and Facebook groups :p

i think every developer copy and paste the code from there :D

Thank you! I needed this today.

isn't reddit for all communities/topics/professions?

And they just don't need it. Actually.

Visited the biology community at reddit
Science Reveals Yet Another Reason Octopuses and Squid Are So Weird
I can't stop laughing!
Probably because of this there are no discussion sites, but only old forums!

For all the stereotypes people create about programmers, including social awkwardness and being a bunch of arrogant trolls, as a new developer I have never found a more welcoming and supportive community.

because we have the power xD

Yeah I've got better things to do than create a social media site for equestrians.