Do all the things like ++ or -- rants, post your own rants, comment on others' rants and build your customized dev avatar
Sign Up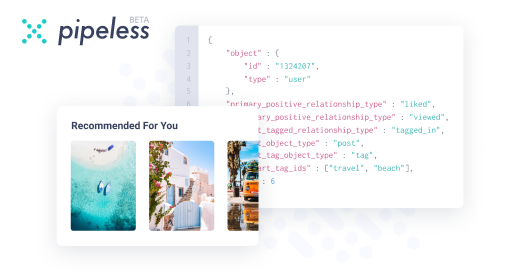 From the creators of devRant, Pipeless lets you power real-time personalized recommendations and activity feeds using a simple API
Learn More
Later that evening I returned home to my girlfriend.

"God, fuck me. I'm pissed."
"What happened at work this time?" she said
"Just my boss. He thinks that a list of lists is a far more efficient way of organizing UI references, than just placing each thing into an object." At this point, she's looking at me like I have 4 eyes... I mean considering I'm wearing glasses, that's not too off.

"Hold on let me grab a pad of paper and I can draw this out for you," I said.
I drew her lines and boxes. "We're going to draw three instances, just for the sake of time."

--- [ ] ---- [ ]
--- [ ] ---- [ ]
--- [ ] ---- [ ]

"Ok, here we have a label, spin box, label, spin box. Right?"
"yes, ok," she says.

"Alright, well we don't want to deal with the labels, but they still exist, so we have to be mindful of them due to parsing the UI. the more efficient way to deal with this is to create an object that can hold on to our labels and spin boxes. and then we can call the object with the spin boxes in mind. For example. Object.getSpinbox1()"

At this point here eyes looked like they were glazing over.

"This isn't making sense, is it," I asked
"No, no. I promise it is," she said, snapping out of her gaze.
I continue.

"Well alright, well we want to get all these objects into a list, so we can then call them like this
item[0].getSpinbox1()
item[0].getSpinbox2()
item[1].getSpinbox1()
item[2].getSpinbox2()
"

"Ok," she said

"Well, my boss decides that it's better to put everything into lists and parse them one at a time."

"What's wrong with that?"

"Ok, you know what. Let me put it another way."

She sits up a little, and I say "Alright say you have a filing cabinet, right?"

"Right," she says back.

"Well, what's more efficient? Putting all your notebook papers right into the filing cabinet, or placing your files into a folder, and then the folder into the filing cabinet?"

"Well, of course, the latter." She says.

"Exactly. my boss is taking all of these objects from the UI and putting them into lists and parsing them. That would be the equivalent of you throwing your papers into the filing cabinet, and then going one at a time through each paper trying to find what you're looking for."

"Ah, ok..."

"Alright, well wouldn't it be easier to just put everything into a folder. And then when you want something, parse through each of the folders, then pull out the folder you want, then pull out the paper you want?"

"Yes, that would be!"

"The former is exactly what my boss is doing, and that to me is infuriating!" I say finally grabbing a breath. "Sorry for that."

"Good rant!" she says and sits back.

3y

"it makes more sense to me to do it this way for the sake of bookkeeping because I don't understand your Object Oriented Programming stuff." I died after reading this.

@jusjoin I died after hearing that. The actual situation was far more annoying, so this rant doesn't even begin to unfold the full situation.

This read was so good as a bedtime post I'd give you a friendly ass slap whispering *dank story bro*

This is the longest rant I've seen and a really good read. That's some mad storytelling skills you've got there.

3y

Very high quality rant!
I'll need to step up my game to compete 😊

But yeesh, talk about mentally lazy.

I started understanding OOP a few months ago, laughed my balls of with this one, thanks!

And that's how you get 3++ with just one rant!

Haha amazing rant 😂😂👌🏻👌🏻
No offense, the conversation between u and ur partner was so innocently cute 🤗🤗 made me smile.
Thanks for that ☺️☺️

Btw why didn't u try to make ur boss understand like how u made ur partner understand it? Perhaps he wud b able to grasp it then? 😂😂

@Electrux

"...because I don't understand your Object Oriented Programming stuff." ... "It doesn't matter, this is my project."

@shellbug

oh... well I vote ur partner to b the new boss 👍🏻😎

By ur I mean OP's 😂😂

3y

This should be promoted as "How to rant 101"