Do all the things like ++ or -- rants, post your own rants, comment on others' rants and build your customized dev avatar
Sign Up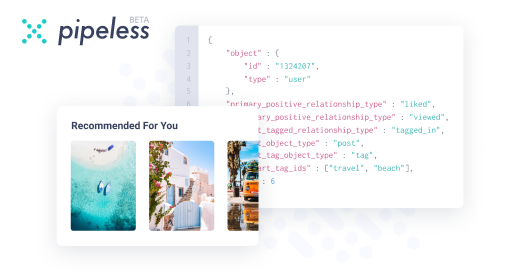 From the creators of devRant, Pipeless lets you power real-time personalized recommendations and activity feeds using a simple API
Learn More
153d

I have a pretty shit sense of smell, usually can't pick up things other people do.

Sense of hearing on the other hand. Especially when I wake up, I can hear everything in the house. People walking, talking, cooking.

@ODXT

yes, hearing too. I'm currently engineering my own usb power supply because I hear coil whine of ANY existing unit

153d

Maybe you're a dog in human's clothes

@electrineer

I'm not even hiding the fact that I'm an animal just like any other human

153d

@uyouthe
That sounds pretty cool. Good luck with that project.

I experienced the chicken smelling weird in general, just avoid that chicken flavour tablets in foods, it gets better slowly.

153d

My best sense is probably peripheral vision, I notice a lot of stuff at corner of my eye. My current phone does not have a notification light because it is literally distracting me. If the screen reflects the tiny amount of light, I will instantly turn my head for some reason.(this is the perks of playing FPS games, are you taking notes parents?)

Eyesight has been fucked for 15 years
I have sortof bad hearing and I can't always tell in which direction the sound is originating from

@theuser

you was a deer or another veggie in the past life. I clearly was a predator, maybe bear or something

153d

I had the same thing, where sometime I got very bad and weired kind of headache from the smell (don't take in wrong sense) of my coworker. It's used to after some interval. Then I started noticing a pattern. Whenever that happens, she used to go early or come late. Or she will lie down on desk for some time. Then I realised why that smell. Moving away was not a choice, as I had to help her( she was my junior).
From that point, the moment I get that smell, I used to spray a little more amount of perfume on my collars. It gave me headache as well, but the weired feeling was not there.

153d

Hearing is my thing. I've been living in a vilage for a long time - I've noticed I could tell what agro-machinery it is by hearing its noise being 2-3km away. Tractor/combine harvester/lory, make and model. Mostly by the noise from transmission and the frequency of detonations in the engine.
I can usually tell car's make when I hear its engine in the yard.
Coil whining - yeah, that's fucking annoying, I feel you man. I gave up - I'm trying to live with them.. I can hear coils whine every time I'm scrolling in my ide, ffs!

When I had my first-born I spent most of the time at home with earmuffs [the ones construction workers wear]. And yet the kiddo was too loud.

And the cat licking itself in the middle of the night in another room.. Fuck! So annoying I can barely sleep! A few times she woke me up by merely licking itself.

I'm glad I don't have hyperosmia though...

@netikras

on the one hand, check yourself up. I'm bipolar and that's related to this. On the other hand, Jan van Eyck is said to have the eye like a microscope so training is perfectly possible

153d

@uyouthe nah, I'm not bipolar - I don't have the phases :) and if I do - I don't mind, as they [if I have them] don't get in my way :)
and I'm happy about my hearing... It's the noise-makers that are annoying :) even if it's me [my noisy heartbeats, blood flow and breath in a very quiet environment, e.G. My native vilage at night]

I don't know if I'm bipolar or bot but my ears and somehow corner vision are sensetive af. I can see a child touching my phone charging while I'm playing osu!, litterally the game you doesn't allow you to look away.

153d

@uyouthe wow the sense of smell thing I don't explain to people because people do take it the wrong way like I'm saying "people smell bad" but my particular sensitivity is that people that are a-holes even if they're not being a-holes at the time- I feel a serious uncomfortable almost like an extreme allergy. I feel restless, my heart races & my nose & skin feel itchy & burn.
I've tried to see if it it's a pet allergy or something like that but it's different I'm allergic to cats but none of these people are pet owners they're just horrible people and it's crazy to have to recover from just being around some folks.

I know totally random but it felt like a proper place to add my two cents

I'm the exact opposite of everyone here, nothing in my body works. Eyes: amblyopia, myopia, astigmatism and I'm colorblind (not much though). Also I can't stand bright stuff, driving at night is a no-no and sometimes I can't go to the beach at noon without sunglasses. My nose is basically non-existent, I can't smell anything, and my hearing is also shit, I never understand what people are saying. I also can't dive because my body won't fucking equalize the pressure on my eardrums. There's a lot more stuff wrong with me, but they're not related to any senses so I'll leave them out.

At least I don't care about coil whine so that's a plus XD

@neeno

lol, what about skin sensivity? Also, are you sure ypu don't see the night like a cat?

@melezorus34

what about it? I think my skin is normal. And no, I don't see like a cat, I don't see shit in the dark. Also I have a very bad time distinguishing colors in the dark, everything is almost monochromatic.

@EDragon

hahahaha you're literally allergic to assholes :D nice

@neeno

you poor thing get over here lemme give you a hug at least you smell nice 😛☺️🥰😊

And you're a great chef. Don't listen to Gordon he's an asshole

@uyouthe aww thanks, I've been showering y'know!

@neeno

imagine us living together. You're outta shower and you're like hellooow my name is neenooooooo and I'm laughing because I'm so happy to have you and then we're like two huskies met on the walk

@neeno

and there are breakfasts in bed because you're a chef and in return I can deepthroat you like no girl can and no girl ever could

@uyouthe yes yes yes and then we can go out for lunch and walk around the local park with our dog "peanut" while sharing our deepest thoughts and then drink a milkshake with two straws in the same cup while staring at each other's eyes thinking about our marriage in December. Then in the afternoon we go home for a passionate rough sex session with some bdsm sprinkled in.

This went from interesting to .. well, another kind of interesting.

@theuser

I can attest to having much better peripheral vision, orientation/navigation and generally spatial processing than most (if not all) people I know, likely (in part) due to (fps) gaming.

@saucyatom

no that's cause you're naturally a veggie

@uyouthe Or maybe that. It's funny cause my family's business is in meat.

Another thing: All my family members have glasses, I'm the only exception. If I didn't have the same nose as my father (& grandfather) I could think I'm adopted.

@uyouthe Actually I'm a bunny. With a fluffy white tail.

@saucyatom

you all act together to keep me horny or what

Is one solution to noisy coils to wedge them with a piece of wood ?

Or does that just work with my TV..

(It has an angled piece of wood at each corner applying pressure so it doesn't make any noise, at least, noise I can hear..)

@saucyatom

Handy when you are cycling in traffic, keeps you alive !

@netikras

Reminds me of the time I was woken up by a cockroach eating loudly in the kitchen at night..

@Nanos

you are just playing with the sound with wood until it gets too weak

153d

Whoa

@Nanos

what the fuck, how big are the cockroaches at your place?!

@neeno

meanwhile at nanos kitchen

152d

@Nanos

oh, they're not that big actually, take a look at the American cockroach (which we have at our place), it's almost twice the size. But still, I have never heard one eating XD

@neeno

You need super hearing. :-)

Super smell is also useful, since you can open your front door before your friend arrives, since you can smell them at the end of the road.

Super hearing was useful for diagnostic purposes on one non-HD/Fan computer, where you could hear if it had hung, rather than was busy doing something.

I suspect there is a genetic element in people with more sensitive senses than normal, which is also linked to a more helpful and cooperative behaviour, which makes them more suitable as programmers, than Joe Average.

From what I can gather, you see the same traits in those that sing in choirs, and anaesthetist.