Do all the things like ++ or -- rants, post your own rants, comment on others' rants and build your customized dev avatar
Sign Up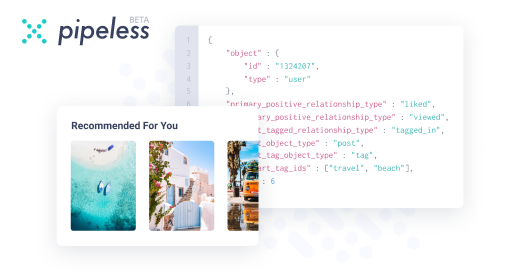 From the creators of devRant, Pipeless lets you power real-time personalized recommendations and activity feeds using a simple API
Learn More
Hey I'd like to contribute and find one also

6y

Next step : devRant gone wild lol

Btw, a friend told me about it. Don't k ow what it is for real 🤫

that would be pretty gay community
#alittlehomodon'thurt

@heyheni

there are female devs too xD and I'm looking forward to that

designer pro tipp: don't focus on how to build it technicaly. Put your effort first on understanding the female devs needs and why they should use it.

I have a team of friends familiar with React, and they'd be down to dive into React Native for a badass idea like this

@theNox

Are you enrolled in TU Wien by any chance? (Cause of the Austria/Slovakia in your profile)

@Azer0s

I'm not, but on the other Uni in Vienna 😉

@theNox

Another person studying in Vienna? What are the odds?

@Azer0s

The odds are pretty high if you think about how many students there are in Vienna

@theNox

That's not what I meant...I meant what are the odds of finding another person who's studying in Vienna on devrant...😂🙃

@Azer0s

Still higher than when you study in some pretty unknown place, though I know someone here who I think used to? study in Vienna who's on here as well

Haha, this is great! I'll setup a communication channel so I can invite everyone to some real-time messaging platform. How do slack or gitter sound, or do you all have something else in mind?

Didn't expect this much response :) Let's get this started!

@anish

Yea setup a slack channel and probably verify the people who wants to join the development.. I'm in btw though I'm not pro web dev.. I recently just learned node mongo and express no front end frameworks..

6y

I see lots of non-coders looking for someone to do free work for them for their "billion dollar idea". "It's like Facebook but for [something else]"

6y

@Azer0s

I'm also studying in Vienna

If you end up doing this, I'll help design/map out/code the iOS version if you go native

6y

I love this idea, if you're making a native android app, I'm an android developer and I'd love to help. I'd also definitely use it... i dont social good

love to help but not very good with those technologies. I'd love to test and best of luck!

I've never done any work in open source. But I'm keen to try and help!

Sweet, this sounds great. I'm just going to be finalizing some stuff tonight, and early morning. Grabbing the basic domain names, and getting a repository setup with some basic information.

I'll tag everyone who want's in sometime tomorrow with a slack invite link to join in, and we can go from there!

6y

I'm in! Love this idea

I'm in. Post the source link and I'll check it out 👍

Depending on the backend... Python w/ flask/Django anyone?

next collab; "Ashley Maddevson"

@daegontaven No...please not...can't we do the backend in PHP 7 with Laravel or Node.js?

@daegontaven We could also do C++ with pistache or (my personal favorite) C# with ASP.Net Web API.
I'm open for anything but I don't think python is suitable for this usecase.

6y

Give this dev a Nobel!

6y

Glad to help!

6y

Would love to help :-)

@daegontaven We have very different opinions then (that's not a bad thing, of course) 😂😂😂...I think it's not about comfortability but instead about performance, reliability and security. I think that C# with ASP.NET Web API or Go with mux are perfect because they're designed to be used in enterprise solutions where all those requirements are in place.

Please don't call it the Tinder for developers

Not so good with the development stuff (still learning) but would love to help. Had a similar idea but never worked on it. 😅

@rui725

if that's what's it's like to be on findDevs I will rather stay away from it or atleast stay away from Vienna girls ;)

6y

Frontend in what? SPA? Native Apps? Crossplatform apps?

I'm in. I can work on iOS/Android part of the project

6y

Will be cool if you can search only for devs who use spaces or tabs, so that there are no wars

I'm in!
I'm more of a backend guy, but I'm pretty good on the frontend web design stuff. I guess if it's for developers we don't really need old browser support... so I can use Css Grid?
On the backend, I would rather go with .net core 2.0 or nodejs.
Please post the slack channel link

Great Idea! ++ to React Native. I'd like to collab if within my schedule. And btw we share the same name too. Hi5!

6y

I'm definitely in. You could also include pools for teams within certain companies. That could be a solid breakthrough.

6y

Sounds awesome, definitely interested in helping out!

Good idea but I like the name devDate better.

6y

I need the link.

@bcye

We closed it because of too many people not knowing C#

If you know C# write me an email:

mitikodev@gmail.com

While this not something i need i certainly admire there is certainly a market for "Tindev".

5y

I really hope this concept takes off. Would love to have something like this popular

I feel the idea guys with little to no coding skills will join first. Getting the developers to join will be extremely hard. I think you may need to find some good angle there

I don't know if you guys really intend to do this as open source as claimed in the opening post, personally I see zero value in making something like this open source

5y

Another suggestion: don't brand it around devs. Most people there won't be devs anyway. Brand it as a collab platform for building a team, or connecting ideas with builders.

That way you could attract all kinds of high energy people. Say, a group of hippies wanting to build a food startup etc.

I want to be part of this. Count me in, if you need an iOS developer.

4y

I would develop this. I already have two dating apps under my belt. Lets be extra gay though, and use react native, for flutter.io. 100% genuine though. XD

4y

Has anybody actually started working on this?
If not then let's start!

4y

@Aeternum

since you are the most recent comment by far, should we start building it? I didn't really get what you meant with react native and flutter but I would like to do it in flutter

I imagine an interfaceless service. no swiping, no scrolling. just a REST API. a true dev will code up their own client. after all that's half the fun. and once you match someone, you have an ice breaker. let me see your code!