Do all the things like ++ or -- rants, post your own rants, comment on others' rants and build your customized dev avatar
Sign Up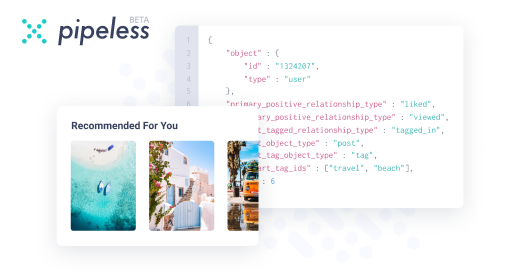 From the creators of devRant, Pipeless lets you power real-time personalized recommendations and activity feeds using a simple API
Learn More
That's why music streaming apps introduced *store offline* feature!

Absolutely! I even have 2 dedicated HDD to this very purpose ("main" storage, and a mirror).

Besides the cons that you've metioned, I can also add that this allows me to have a better organization because I don't depend from a specific service to edit, and add, the metadata. Not to mention that I can make use of some other fields to satisfy my own organizational needs.

(Disclaimer: I love to work with metadata, it's like a hobby)

And, of course, I also use a streaming service (Spotify) but, TBH, albeit it meets most of my requirements (speaking about the catalog), and that it had allowed me to discover new music, there are some still some issues for me (specially availability of some albums, artists, songs - stupid geographical restrictions) to full embrace that model and put aside the "local storing" model.

No I just stream really. I do always have some music downloaded offline from Deeze

4y

I own a (group - a gaggle, a murder?) of CD's. I am obsessive about metadata because I always want that hi-def album art on my phone. I also think that with cloud subscription and the history of DRM and SecuROM and stuff, I want to be sure I always own my stuff myself.

Organizing and storing is a huge pain. I've thought about setting up a dedicated fileserver just for storing music, but I don't know how to properly keep it organized between my myriad of devices.

4y

Also, anyone have suggestions for offline music players? I like the iTunes UI but it loads SO SLOWLY. It's truly unbearable. Plus Linux.

@chadd17

Amarok and Banshee are decent choices I think

4y

I have Spotify Premium and truly unlimited data, so I use that 95% of the time. I like to use Last Fm to track my listening habits too! Haven't bought a CD or digital download for years

@adbo

kudos for the Spotify+Last.fm combo! I'm doing the same.

On the other hand, I regularly buy physical albums. The last ones were a couple of vinyl limited editions.

4y

Spotify doin this very good and legal :)

4y

I'm a metalhead and not a fan of (most) streaming services. I don't think it's good for bands financially. Also, I like to store all my music as FLAC.

A part of the music I like isn't available via streaming, and I don't like being dependent on some online service.

So I still buy and rip CDs and it's worked well so far. Plus I don't need to pay anything just so I'm allowed to listen to it.

From my favorite artists I buy it on their websites or bandcamp, often flac files, which I store on home server and usually carry with me as well.

I have subs for Google Music & Spotify, with a whole bunch of playlists, lots of it is shared stuff with my girlfriend. On GMusic you can upload & add metadata for obscure tracks from your own computer, and redownload/stream them.

Then most of the time I just type in "<genre> mix" on YouTube anyway, and just play some 2h long video.

It's cool to see that I'm not the only weird person who likes to fill in metadata. It's like a ritual for me at this point, I find it very relaxing

@ocab19 and educational too :P hehe I've learned "trivia info" while doing that (filling metadata)... And yes, you nailed it with the relaxing part,

I transitioned over to streaming my music and while it's definitely useful in some ways, I mostly see it as a bad habit. I'd like to keep my music more organized and be able to have it in case I'm ever in a situation without internet, but right now I am way too busy.

I got into flac recently, but only have two albums in the format, spotify for the rest!

Sony also advertise high quality dac in my phone, but I can't hear the difference.

I have my favourite music on vinyl. So I guess that is stored somewhat locally, for digital music I use Spotify

Not had local music files - except the 'store offline' mode since I got Spotify Premium with my ISP bundle.
The quality of the normal stream is good enough for me as I'm no audiophile.