Do all the things like ++ or -- rants, post your own rants, comment on others' rants and build your customized dev avatar
Sign Up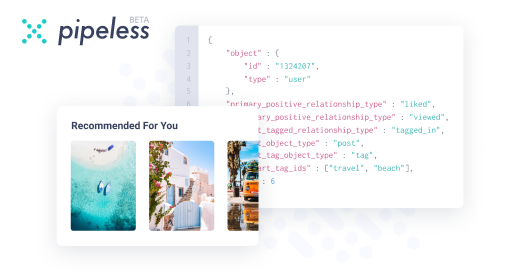 From the creators of devRant, Pipeless lets you power real-time personalized recommendations and activity feeds using a simple API
Learn More
You should share it. I'd love something like that.

@crackroach

id love to but the metrics and keywords i used are too personal and specific to the way the emails are constructed (not to mention the language the emails are in) i doubt it will help anyone 😐😐😐

Nice idea for a product though ;)

@noisyass2 What about sharing the source code so people can personalize it themselves? I would fucking love this!

@linuxxx

@DLMousey if i get a stress ball out of this post, I'll do it!!

Just kidding, I'll​ abstract the hell out of it when i have time and post it here.

4y

I will leave a follow up here

Return my callback function when you do it

following! you just gave me an awesome idea for my final year engineering project! @noisyass2

Has great potential for an open source project I think

4y

Seems awesome!

4y

Following!

Wow, it sounds great! I must be lucky only to get one or two mails or day!

Following for awesome chatbot

4y

That sounds epic

4y

Sounds very usable, open repo (remove your personal stuff), I believe more than a bunch of us will be happy to make it more general for public use :D

4y

Listening

4y

Following :)

4y

Following too!!!

4y

Following

4y

Following, don't wanna miss out.

4y

Give that guy a stress ball

4y

beep boop

4y

Am camping here until I have cloned that repo(to come)

4y

Just following

4y

Pinned

4y

Pretty interesting, I'm also commenting to get the follow up.

4y

Waiting

OP has a lot of hopeful people. I wonder if he'll deliver

4y

Awesome! Following.

4y

sounds awesome!

4y

Following!

4y

Follow! :D

Wow i didn't know there was demand for this. So after cleaning up my code i think i took out almost 70% of it. Im now left with the email part of the bot.

Here it is:

https://github.com/noisyass2/bobot

I hope you guys are not expecting too much coz it is a simple bot with a simple mind. Anyone is welcome to make this to a real product!

4y

@noisyass2 Thanks, mate! I'll take a look as soon as possible

@noisyass2 This looks like it's designed for slack. Is that the only environment that it can run in?

@tisaconundrum I think botkit support other channels too like fb and ms bot. Haven't tried though as slack is the only one allowed in our network

4y

I'm salivating at the possibilities lol. Can't stand checking email at work.

@stryter

yeah can't stand them too. But you still have to read them though. This just helps you prioritize the impt ones.

@BrsJsk the parser is in C#,the bot is in js.

@fun2code the parser is just a plugin for outlook. It extracts the emails to a flatfile that the bot reads. The bot is pretty straightforward. Read up on botkit to get started.

@adammoisa

i posted the repo a couple of comments above. I couldnt include it in the post cause i cant modify it.

4y

@noisyass2 could we turn it into some form you fill out on first run and add to as you go? Very cool btw!!

4y

great idea!

4y

This is a great idea! Going to check out the repo first thing Monday. I'm not a fan of outlook grouping emails but turning them off leaves me with hours of scrolling. This could be the perfect solution!

Thanks for the idea @noisyass2. I looked at your code and I don't really use Outlook so it's not really for me. But it's inspired me to build a NodeJS application that reads all my unread email from an IMAP inbox and build a HTML page report that visualises what I need for the day.

4y

@a Kirkuklgw ggwl

4y

Nice work!

4y

+1

Cool thanks for posting it

@bb6xt

Jesus Christ! What are you doing?

4y

@tisaconundrum nothing. My phone was in my pocket so it ended up sending some random text. But now that I think of it Kirkuk does sound like a place the NSA will be interested in -:) I hope they're not watching though.

4y

Share it or it never happened!

4y

Thank you very much @noisyass2
Gonna learn a lot from you ;P

So awesome And I'm eating sand here.. 😁

Great idea, I'm glad some one beat me to it

4y

I love this bot already.
"Good morning" at 7h53 PM?
That's my kinda bot!

4y

+1 for source code

Sounds super cool. Can't wait to see it 😁😁

@sandeepb

could you share the project? Imap reader

Props for the bot. But I wonder what kind of circumstances require reading 1 hour worth of emails each morning?