Do all the things like ++ or -- rants, post your own rants, comment on others' rants and build your customized dev avatar
Sign Up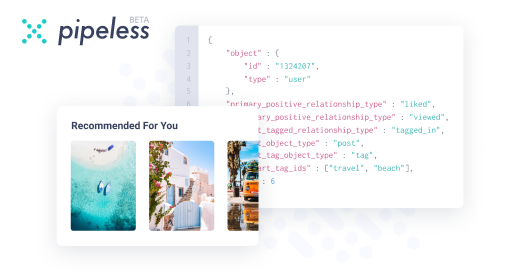 From the creators of devRant, Pipeless lets you power real-time personalized recommendations and activity feeds using a simple API
Learn More
5y

Thanks for the info David, ill switch devRantron over to .com Tomorrowland :)

5y

but i though io was the techy domain?

@dfox

do you have a program that automatically creates those images for you?

5y

Thanks Wiard!

@Dacexi

awesome, thanks!

@billgates

io wasn't really an option on anymore due to how much they've been breaking. We were going to go with the domain we already had, devrantapp.com for the API if we couldn't make this happen.

@ewpratten

it's all

@trogus

:) He's kind of like a program though.

5y

@dfox

io domains break? but its just a dns name? github.io seems fine?

Best of luck guys, wish you all the best :)

But I really liked devRant.io more than devRant.com

5y

What a great thing to have devs as customers.. otherwise people would be yelling here! : D

5y

Congratulations you guys!!!

Can you maybe use devrant.io for a not in another site embedded version (to add it in chrome as an application)? :)

@Audy

You are welcome :p

@dfox

thanks for the kind words. I'm glad that I could help. Especially now I sort of started using devrant and seeing this awesome community.

5y

I like io over com

@gitpush

thanks!

@wiardvanrij

thanks again and welcome to devRant :)

@ashokramcse @Dominic

you can still type devrant.io if you desire :) The reality for us is having a .io that might look cool is not worth the tradeoff of the downtime/security issues io domains have recently experienced and it also makes branding easier for us.

Just saw the announcement and was like: meh, why do devRant maintainers bother announcing, we already know :P

Guess this is what happens when you get devs as your primary users :P

Congratulations on acquiring devrant.com

Cheers to entire devrant family.

And

@dfox

, thanks for the announcement, I will change the API endpoints too for the wrapper myself, few other devranters and contributers are working on.

It's great to hear how Wiard helped to give away .com

@dfox

, please convey my best wishes to him and may his blog get tons of views too.

5y

What? Why?
.io was way cooler, speaks much more to the developers than a .com

Edit: I read about the .io issues now. I wonder what could make such a difference, it's just a domain isn't it?

5y

Cool!
Updated maxRant and darkRant on Userstyles :D

5y

Good thing I was to cheap to by devRantron.io then ☺️

5y

Awesome news, a huge thanks to

@wiardvanrij

and welcome on devRant :D

5y

@dfox

Yea I found my mistake 😄

Still curious how some domain can have more issues that another. Got something new on my reading list now 😄

@Froot

it was new to me too :) That morning a few weeks ago I couldn't figure out why the app stopped working for me, and had to do some research to see it was .io outage that apparently happened before. I think the possible security issues are even more concerning though.

Nice!!

I will sorta miss the .io

5y

@dfox

Why don't you guys give some devrant++ to

@wiardvanrij

. After all, he was generously enough to give away his domainname 😉

@Tobyvw

great idea, but we actually don't have the functionality to give people devRant++ because of how the receipt checking system works that runs nightly.

But he'll be getting a lot of devRant swag mailed to him :)

Nice! Congratulations and good job, you two

So for how long will devrant.io be forwarded to .com?

5y

@dfox

congrats !!!!!!!! A kinda big step forward!!!!!

5y

Also I hope my firefox extension works ;))

5y

Welcome to the team

@wiardvanrij

and thanks for supporting this awesome bunch of weird humans :)

@dfox

used the domainjoin-cli

@Froot

Yeah, we have some issues with our TLD, .ax, too every now and then...

5y

5y

🎊

5y

Just created an account for devrant to comment on this post...

Changed domain, faster sticker response?

5y

About fucking time! Good job! Has that developer signed up here yet? We should all give him a round of applause for giving up a great domain name to a great startup.

5y

Excellent news! Nice!

5y

@github

I _might_ be able to help with that transition.

(busy with studies atm)

@coolq

someone already submitted a PR.

5y

5y

Welcome @wiardvanriji !

5y

@runfrodorun no he didn't pay bigtime for the domain, see above comments

@wiardvanrij

- Great to have you with us, and thanks for your contribution.

5y

Congratulations guys.

1+ to Wiard, is he a member?

That's the kinda community spirit devRant's all about right there!

5y

Thanks everyone! We appreciate the responses/feedback here and are glad that for the most part everyone likes this change :)

@paradonym

devrant.io will redirect for a very long time - I can't see us getting rid of it.

Oh yeah!! Let's party!! 🍾

5y

I can't promise about reading the blog, but huge props to Wiard

5y

This is awesome long live ~devrant.com~ long live **devrant community**

5y

I am just glad you have devrant.*, and it's not pmrant.biz

5y

Congrats to new DevRant.com. Really like this community 😆

one more ++ and dfox earns a stressball

@dfox

don't forget to claim your stressball XD

5y

Congratulations!

5y

congratulations

Oh, look that! Congrats for the stress ball!

5y

Cheers :)

5y

Yeayy!!