Do all the things like ++ or -- rants, post your own rants, comment on others' rants and build your customized dev avatar
Sign Up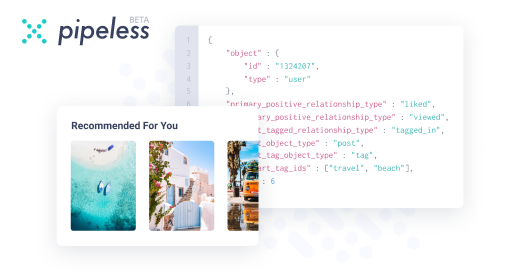 From the creators of devRant, Pipeless lets you power real-time personalized recommendations and activity feeds using a simple API
Learn More
That's a pretty cool feature! 👌👍

2000, long way to go for me!

@CozyPlanes

we'll get there mate. I see a fair point in that. If everyone posts a project listing of their own, it would be a mess.

Nice, should have known you and trogus was going to make the first two postings. I'll add my side project on there when i get finished polishing it up a bit

Thank you for the new feature

@dfox

and

@trogus

. I don't have 2000 points (long way to go) but i'm loving devRant and i'm glad i've been with it from the start. It makes me happy to see the devRant community growing and the your direct involvement with the community! :)

Great way to monitize the app! Love the feature :) thanks

@dfox

@mzgaljic Well that was a fun stalk. A few good posts that I missed and you are a bit closer now.

6y

I'm interested why the $14 fortnight price tag and not say a monthly fee per collab? 14 seems high as well?

Not criticizing just interested in the reasons. Cause to host a private git hub repo is 7 a month?

Personally would pay a (okay perhaps lower) monthly rate to get some interest around a project. But at that price point I can not justify paying for one of my projects even for the short time frame not too mention the longer term ones I am looking at.

What do you guys see the use case being in that regard?

Also, awesome feature!!

How about: one collab posting per 2000 points?

(2000:1, 4000:2, 6000:3 and so on)

Thanks for the feedback so far everyone, we really appreciate it!

@Vaccuss

thanks! The logic pretty much is if the person isn't willing to pay $15 to find a team to work on their project with them then they probably aren't serious anyway and we don't want people posting projects they aren't passionate about.

Personally, I absolutely hate subscriptions and I think most users do. I also don't think anyone would need a monthly subscription to a collab service because if you're making multiple collabs every month you're probably not finishing the ones you started :)

Compared to GitHub, I think this is a very different/unique service. We're offering a exposure, not a tool that there exists powerful free alternatives (ex. BitBucket) and we're hoping to offer something unique. The premise being our users in the past have expressed issues with getting personal projects going.

We also want to make sure each collab gets nice exposure so making older ones stick around possibly indefinitely in the feed would be difficult.

@linuxer4fun I'm not a fan of that. We're giving one free one for users to try if they have enough points, but like we've said, the $15, in our opinion, goes a long way to weeding out projects that aren't meant to be serious.

Obviously we'll see how it goes, but we like having the price tag as we think it will translate to higher quality collabs.

Why cant I just post a rant about it and ask there?

@linuxer4fun two main reasons:

1. It's much harder to get a lot of exposure for your own project in a rant that overall will probably be seen by a lot lower percentage of our overall user base. And most people who see it probably won't really be interested. So basically it's limiting the audience a lot.

2. We'll probably start referring rants that are explicitly collabs to use the collabs feature. A collab is certainly not a rant and fits much better in this feature. We won't delete collabs that are posted as rants, but they will likely receive little exposure going forward.

@linuxer4fun you prob be can. But it wont have the same reach. And I'm not sure how people will react when you try to get for free what is offered as a payed service. So I expect down votes.

I know you're 13 so 14 dollar is maybe a lot. But you will reach a lot of people with it. So try to save up, or show someone with more money that your project is really good.

@aronmik im just askin in case ;) 1 free collab is enough, I think for the next year, then, I'm fluent in cash (atleast if a wonder occurs ;'))

Also, these are good questions, so thanks for that.

It reminded me of an exception we wanted to add but need to put somewhere. If your collab is devRant-related, ex. a devRant Chrome extension, we will give you a free credit for that. It wouldn't be fair to charge/make users use their one free credit for a collab that serves the devRant community itself, and we certainly want to encourage those kinds of collabs too.

So if anyone is interested in that, just let me know and I can help you out.

@dfox

ok, thanks very much :) that sounds a lot better now... I was a bit... Sceptic in the beginning

The price seems like it'll turn this into job advertising and the likes. I've spent $100 on Reddit and $150 on Facebook ads for small projects — and I still don't see the value in it. Not here to offend or argue, the strategy being 2 weeks and the cost being higher than many collaboration tools is hard for me to justify.

@Neotelos isnt the difference with Facebook/Reddit that on devRant you directly have your target audience. The people on that page are interested in finding a project to work on. You are not just an advertisment. You are the product they are looking for.

I don't know how many users devRant has but I thought the 14 dollar was a very good deal. But that could be me.

Also the points

@dfox

raised are valid.

@aronmik Facebook and Reddit had my target audiences. If I was targeting the dev community, I'd advertise on StackOverflow.

Then again, starting a price high and lowering if necessary tends to land better reception than vice versa. We'll see how this executes.

@dfox

will you have to pay only far creating or also participating in colabs?

@dfox @trogus

Just my opinions and thoughts

1. The collab feature is for open source project. I think a very few people will want to pay for it.

2. $14.99 for a project, for me at least, is a very high price to share an (again) open source project

3. If someone is serious enough for a project, there are chances that the project won't be open source. If I have an idea that suddenly came up in my mind and wanted to see what everyone thinks about it, I would come here and say: "I have to pay 14 quid for this? Meh"

4. If you really want a payment to make sure the projects are legit, maybe make each project cost $1.99 or $0.99. Because if someone crosses the payment barrier, he is serious about it.

5. Then again, the moment you add a payment, you're going to lose a lot of nice ideas. Ideas come and go very quickly. That payment barrier is enough to put off people from sharing their ideas.

Just my opinions.

@tahnik

well, he isnt a millionaire..

@dfox

, Like the idea, and agree with your reasons for the price.

It's just that...14 days? Seems a bit short. Why not 30 days?

14 days may be bordering on the scenario where someone might miss it. Not sure what your DAU/WAU activity is like, so this may not be applicable, but imagine if a user went on holidays, or for whatever reason wasn't in the app for a couple weeks.

@Neotelos our collabs tos explicitly prohibits job posts.

@redstonetehnik

you only pay for posting :)

@tahnik

it's not only for open source projects. It can be to start a side project/business too. I think $0.99 does little to show actual interest and it certainly does little for keeping devRant afloat.

And to be frank, as I said before, this isn't about getting every idea heard. Or even every "nice idea" for that matter. It's letting people, who are dedicated to their ideas and are willing to spend the time on it, get it in front of a ton of developers. If you think "I have this idea, but not worth spending $15 to get it off the ground" I really believe you weren't serious in the first place.

I don't think any collab portal with 100s of posts of people posting nice ideas with no follow through does anything for anyone.

@iLikeToast

we certainly may adjust depending on volume, I think that's a fair point that we're not opposed to. The length was sort of arbitrary to start out.

@dfox

"...this isn't about getting every idea heard. Or even every "nice idea" for that matter. It's letting people, who are dedicated to their ideas and are willing to spend the time on it, get it in front of a ton of developers..."

Thanks. I got the idea. Good luck!

@dfox

Hey how about making it read only for everyone?!

@CozyPlanes

hey, opinions! Anytime someone talks to me about an idea I try to bury it to the ground. Without challenges it's hard to make sure the idea is solid.

@dfox

just dont think what i said before... I didnt update the app... Sorry for misleading

Will there be support for this on the website as well? Personally I use the website to view rants a lot and always feel like it doesn't get the love the apps do :(

Feature request: transfer of upvotes. You'll be taking the piss if you can also transfer downvotes 😉🙈

@dfox

"Your entries will NOT be saved..." Typo in small print??

6y

<3

@Jamoyjamie

good question - there's support already for viewing collabs in desktop web but none for creating yet.

@sylar

it's not a typo. It could probably be more clear though. It just means if you close the window, we save the stuff you've inputted so far so you can come back and finish it at any point.

6y

Awesome stuff! I'm sure this was part of the business plan all along, and I really hope this makes a good revenue stream for you guys! :)

Next, add a "code review request" feature :)

6y

So close, yet so far away

@dfox

can we have a progress meter on the Collab? (Ex

Progress: [|||||||| ] (50% complete))

6y

@dfox

Can you allow exclamation marks in usernames? I want to change my name to jAsE!

I just spent my free collab. Let's see if. I can gather some angry devs

I like the paid collab thing. First, so you guys can make a little money, and second, so we don't have postings for 12 year olds who know only how to print text in html, but list for five professional devs to do all the work on some stupid app for him :p

Were you emulating an iPhone 3GS for that screenshot?

You should advertise those colabs more.