Do all the things like ++ or -- rants, post your own rants, comment on others' rants and build your customized dev avatar
Sign Up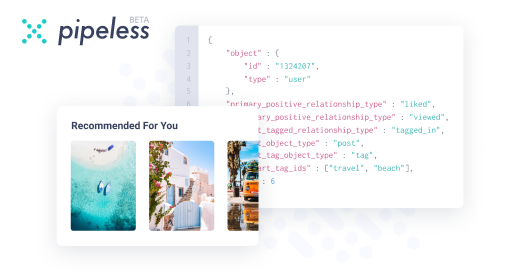 From the creators of devRant, Pipeless lets you power real-time personalized recommendations and activity feeds using a simple API
Learn More
@stuxnet

mah internet point

Joke aside, I'm surprised I'm at 22

I don't think you know what "official" really means, but thanks for the spotlight I guess

I like how

@Linuxxx

is still almost 3 users worth of updoots 😅

I actually made it in thr top 100?!

@devTea

can I upvote spam you to get you a little higher?

@AlgoRythm

you can I guess? But I'm fine with this

Award For The Most Downvoted User Goes To

@wazza7253

Those who couldn't make it to Top 100 (or 1000), don't be sad, These points don't matter, It's just a number.

@AlgoRythm

Glad you didn't demand the source code, You want the complete dataset? There are 29,009 users.

3y

@theabbie

I AM THE GATEKEEPER TO THE TOP 100 WTF

@devTea

I did not. You are now #21 ;)

@theabbie

complete dataset will be invalid in a few days... It's interesting, but no thanks. I don't have much use for it.

3y

@theabbie

🤔now that's an interesting list, gist of first 100?

@AlgoRythm

Not in That way, It is a list of user ID of all users, There is no API to get all users, I had to extract them, also, User ID is permanent and doesn't change with username. Still, yeah, that's not much use, It will be easy to update this list with all user IDs.

@theabbie

dump it in a csv somewhere, maybe it will be interesting, then.

@theabbie

it's definitely interesting, but why?

@AlgoRythm

I have JSON, that is equally useful, Ping me whenever you need that.

I'm never in the top anything, so this is an honor. :)

Just by the way,

@Alice

's leaderboard is still functioning (not gonna share the URL without consent) but she doesn't remove deleted users.

The names on there bring memories. I'm #8 on that LB.

@AlgoRythm

Any Realtime Leaderboard would be slow, there are 29,009 users, fetching there scores and then sorting is a huge task, unless there is a hidden API to get leaderboard directly.

@F1973 Sorry you couldn't make it to Top 100, you are #248, We can consider score of your previous account if you want.

@AlgoRythm

I'm glad I wasn't the only one who didn't forget that lol

Pretty sure the toaster is still on her site too.

@devTea

you know I'mma whore for those ++ 🤣🤣🤣

@Stuxnet

this is a robbery, give me all your ++ now 🔫

I am rarely on here, but glad to see I'm still hanging out on the top sort of 😂

3y

#2? Really?

I don't even think I've been that active, especially lately. 🤔

As an aside, I'm sad to see

@AlexDeLarge

isn't on this list. I still miss that asshole.

I guess I'm top 59? 😅 Waw...

3y

I'm surprised I'm still that high after being inactive for such a long time

@F1973 That's also a good Idea, But this one is for all the users, I can implement it real time, not much useful.

@F1973 Oh, I didn't know People contact me on telegram when I have clearly mentioned email is preferable, will check

@F1973 I don't think this will make anyone a Karma whore, top 100 is too far

It's an honor just to be nominated

@F1973

https://theabbie.github.io/#contact

This is the section for "Top 10 ways to contact me" and mail is at top, IG second, Actually, I can't reset PIN from telegram and so, checking messages is little bit harder, still, I will check.

@F1973 Yeah, I admit that

Ah yes, 20th place in the top list.
And I'm not even that active anymore...

I was literally inactive for like a year but very cool.

@iiii

I'm only active like a year later tho

Correction: 2 years later

@F1973 Pretty interesting to see that so many people deleted their account, some users still have the same score even years later.

PS: What about rant quality?

@iiii

yeah, back in 2016 I don't understand half pf the post here until I actually got a job as dev in 2018

@devTea

But you kept your blue background, at least! (That's the most important thing)

3y

Render me surprised, didn't think I'd be in the top 50

Top 100 babyyy!

Not here since day one but when devrant consisted of like 7 people jk :D

@Nanos Are you sure you commented on correct Rant?

I'm not even on the top 1000... 😢

Guys please upvote this comment.... 😂

🆙👍🏻👆🏻☝🏻

@subspace

I have mentioned where I got the inspiration from, You don't deserve more credit than that.

*hasn't been active for years, is still top 20*

Someone please explain

@ewpratten

Same as early investors in a huge startup, didn't do anything, became millionaires

@ewpratten

I only see about 15 of the top 50 around in a active capacity.

Seems the top 50 is a lonely place.

@Nanos If the founders are hardworking, you don't need to do anything, motivating counts, but still, not worth millions of dollars.

@C0D4

once upon a time, I had this crazy thing called a "relationship" take up all the time I would normally be on here, and since then, I just kinda forgot I had this app installed.

I'm trying to get back to being semi active

Why am I even so high up lol

wow, haven't been on for a while and still at 26

@calmyourtities

Everyone is saying the same thing, you can't be in top 100 without being for a while.

@theabbie

yes, i definitely did join earlier than most

@Nanos You took it too seriously, I was just doing a comparision

@Root

Same about Alex.

@theabbie

I never gave you permission to pull my data from devrant for your statistical use. do remove me from your pool. I also forbid you from keeping any of the data related to me.

I will use this notification in a court of law, if need be. Consider yourself warned.

@NoMad

Is this anger because you couldn't make it to top 100?

@theabbie

yes, I'm jealous.

My warning still stands.

@NoMad

Well then, though this is completely allowed as per terms, you have right to deny, no problem.

@theabbie

if you can manage to read, there are data privacy laws. the fact that you "can" pull data from a service, does not exclude your responsibility to store and aggregate the data. you have to notify all parties whose data you are using.

@NoMad

Your DevRant score is not technically "your" data, but just a number attributed by DevRant, You own what you post, and, making scripts to use such non-user data is allowed (or not denied) by Devrant, as of yet. And I prefer things said by dfox if it's related to DevRant.

@theabbie

even my username is my data property. you can pull all you like, but as soon as you store, you are bound by the same laws as the rest of the service providers on the internet.

@NoMad

By storing you mean printing the leaderboard in a github gist? If that's so, you are not the copyright owner of your username, even if it's clearly visible that it's pointing to you, If I had stored your rants, that would clearly be objectionable, not this. Sounds stupid, but this is the reality.

@NoMad

Only if you could ever explain properly, through sources, examples and calmly.

@Nanos What's your opinion though?

@Nanos the social media is not to blame tho. the abusers of the systems are. and that is reflected in rules of the community, usually. ofc, you have to find a way to control bots as they grow with your user population.

@NoMad

Oh gosh. I just randomly logged in after not having used devRant in forever. I can't do this again 😅

3y

@subspace

You might not know it but you are becoming a troll, this might make you feel worthy but you're degrading yourself.

@subspace

I think

@unclesam

account was deleted for similar reasons, he started with soft-core shitposting but was turning aggressive, It was necessary to kill him to save everyone from the toxicity, you're on the same path

@Root

I give you the F-pass, beat the shit out of this ShitPoster

@subspace

Dude, stop it, what do you think you are doing? your account will be deleted and everyone will forget you, why not stay normal?

@theabbie

can you divide the number of ++ by (post + comments)

That will give the number whether someone has quality posts or they just post a lot and you can release top 100 of those and compare with the top 100 based on just ++

@hardfault

I can do the math for ya

Coming in at roughly 30k ++ from comments, we got

@Jilano

lmao

@hardfault

in that case 1 comment with 1++ will be equivalent to 1k comments with 1k++, who should be considered better?

@Stuxnet

I live by the motto: "Just because you have nothing to say doesn't mean you should stay quiet".

@theabbie

both are equal that's the point , they both have 1 ++ per interaction

@hardfault

But they shouldn't be equal, if someone has just 1 good comment with good score, he will surpass most people, that shouldn't happen though, that's the same problem with IMDB ratings, average are not the best measure.

@theabbie

depends on what you are raking as, if you want to rank based on quality of interaction, ++ per interaction is the way to go

the example you gave is bit superficial, but even if you compare person with 100 interaction with only one interaction having 100 ++ ( extremely unlikely)

and a person having 100 ++ distributed almost evenly over 100 interactions will have a same quality of interaction, they won't surpass people with more quality interaction.

@hardfault

Suppose a movie has 5 star rating because only 1 person rated it 5 star and other has 4.8 because 1 million people rated, which is better? As per average, former is better, but surely it's not.

@Alice

you're the one who created 1st T20 Leaderboard?

@theabbie

Movie star rating is different kind of avg its more random

, in case of ++ per interaction The hidden dependency is ++ is the function of no of interactions ( mostly an increasing function) so you won't run into imdb like scenarios

May be just try it and see if your are running into some problems with that

@hardfault

The Score/(No. of Rants + Comments) Ratio for #1

@linuxxx

is 8.12, suppose a newbie makes a comment and gets 10 ++, his Ratio will be 10, As per algorithm, he is better than Linuxxx, But, theoretically, it shouldn't be.

@hardfault

Your measure is only useful for Top users, If you want to calculate this ratio only for top 100 (or 1000), I will do that.

@Alice

Yeah, suppose it breaks TOS, will an apology be able to solve it?

@Alice

Also, my motive was to let everyone have fun with their rankings, I have no intention to break any Terms, I hope he understands.

@Alice

By different, you mean better or worse?

@Alice

These terms about storing data are there so that people don't claim over data, In my gist, it's clearly mentioned it's DevRant leaderboard, it should not break any Terms as it's not used for commercial purposes or so.

@hardfault

Here's The Top 100 based on your metric

@theabbie

what kind of trash list is this if I'm higher than Root?

3y

28th and I don't even post anymore... I'll take that!

This Top 100 is only based on considering top 100, there might be people who can be in top 100 but were not counted, that would be a long process, especially for a test ranking.

Lmao how am I still at #85 after 2 years away 🤔..but not surprised

@linuxxx

is still miles ahead haha

@Haxk20

This is based on interaction rate, not the ultimate list because only top 100 were considered. You can assume that among top 100 users, you are 73rd as per interaction rate.

@brod

You are 85th among the top 100 based on interaction rate, actual ranking might be different if everyone is considered.

Haha and I made #12 on the "quality" metric.. someone please show my boss lmao 😂

@theabbie

if SortOfTested is the second from the end of a "quality rank" this rank is pure bullshit

@theabbie

gotcha, still good enough for my ego lol

@uyouthe

It means she gets average of 3++ on her rant/comments, that's a good rate but there are better people

@Nanos All of your comments lack context, I understood your point, But, I need more elaboration.

@theabbie

this is not "quality" then. That's virality

Here's Top 100 on considering top 1000 users, this is a proof that this metric is pure Bullshit

@uyouthe

I know that, I even told

@hardfault

that average was not a good measure, but he was optimistic that it is good.

@Nanos Now I am convinced that you are an AI bot who talks well

sorry

@linuxxx

, you are #443 on "Quality" metric

The Top users are those whose rants went viral

Checking out the top of the "quality" list is kinda sad, I remember

@BlueNutterfly

from years ago which is nice but most of the others are just trash posting and js memes.. 🙄

always thought the suggestion (from years ago) to only allow images via camera was pretty smart, guess it didn't happen

@theabbie

what about a running average over account age?

Popularity metrics rarely work as expected.

@C0D4

You mean (Score/Age)? Shouldn't we consider number of Rants and Comments?

3y

I am so confused now, so am I in a top 100 or not

@theNox

You are in top 100 and among those top 100 you are #53 based on interaction rate.

@Nanos An Ideal algorithm should, it should also do sentiment analysis to see amount of hate in rants and comments, I am not a professional, I can only deal with numbers.

@theabbie

yea, but it's been a long week and I don't have coffee to do the math.

So 🤔

We want to know most influential accounts.

Not sure if it works, but something like:

( (TotalUpDoots /(totalRants+totalComments) ) ) / totalDaysSinceAccountCreation

Just yank the top 50 and see what it looks like.

@C0D4

Let a = Score

b = Total Rants & comments

c = age

As per your request,

Popularity = (a/b)/c = a/bc

a/b = Rate of Growth with Time

a/bc = Rate Of Growth with Time per Rant/comment

I hope it works.

@Nanos You are insanely fast typer, there are competitions and you can earn real prize money.

@theabbie

can't be any less wrong then what we have so far 😅

@theabbie

kinda like the new list you posted, I didn't wanna wanna call that ratio "quality"

I just did cause long back i had a suggestion to

@dfox

to provide functionality to remove ++ from app UI.

At that time argument was made that that will encourage shit post, i said that ++ is not metric of shit post , and the list you provide proves it.

Ideally ++ is a function of your no of interaction (rants comments) and also it's a function of your current ++ , and sometimes it overtakes the actual quality of post

There is time when current ++ attracts more ++ even if it's a shit post. It acts a deceiving bias , hence my need to hide it from my app ui.

@F1973 We are making it too complicated, let's see this first.

@C0D4

@F1973 Here's the new list

@theabbie

i think the problem here is that people remove their comments and rants but keep ++, ideally if the total no of ++ on rant and comment != their total ++ you can invalidate those accounts from this list

@theabbie

you know, that's probably closer to the mark.

@hardfault

Much better if we drop this idea, no algorithm will be perfect. The best users are those who are loved by everyone and algorithm can't find that.

@C0D4

Would be more accurate if we calculate all users, not feasible, so, this is acceptable.

@theabbie

who needs to find best user?

I thought we are just statistics junkies trying figure out different leaderboard for fun and giggles

@hardfault

this fun is using DevRant API and I don't think dfox will find this fun, We are fine with this list. There are many possibilities, maybe we will do it in future.

@F1973 ahh got it it's the memes tag

@0x00

post are all memes

Yeah you're right it's not possible to do what i said, i was just surprised to see >100 points for an account and all of the post in that account are memes

@theabbie

This is the first push notif I got from devrant in a year, what did I do to deserve this?

@BinaryByter

Your Score/(age*no.of rants/comments) Ratio is among top 100, Nothing to be proud of, just saying.

JUST MAKE A FUCKING WEBSITE FFS DONT SPAM MY NOTIFS

@theabbie

maybe split the list to best by comments and best by rants?

One interesting thing would be to find the most upvoted comments on the site. The most upvoted rants we already have in-app.

@electrineer

good idea, dfox will kill me, I think it's better to ask dfox to find that than fetching every rant to do so, it might be a simple SQL statement, I don't want to abuse the API again.

@F1973

@C0D4

These are the most influential people among top 1000 based on number of comments on last 30 rants

I could have easily been on top of this but I am not in top 1000, Sad

What? Me?? I haven't posted in ages lol

@theabbie

another quite interesting metric would be how often a user is @mentioned. But yeah, impossible to get without access to all comments.

Why are we still here.. just to suffer

@devTea

hah, well in my case life just got really busy and devrant sorta just fell off my radar. This is the first time I've been mentioned in months, so It was like a reminder that devrant still exists and is still on my phone 😅

@Elyz

People love you, what else do you need?

@frogstair Number of peoples commenting on your rant, there are lot of comments on trollers rants too, but, we can ignore that.

@Elyz

aww, don't worry, you will find someone who will love you the way you deserve, life sucks sometimes, not always.

@Elyz

Maybe you will fall in love with a drug dealer

My influential Score is 2391, and average of 217 comments per rant.

3y

Ooooo this is nice :p

Let's just rank everyone based on their user id

If you have the data, I'd love to see a listing of ++ divided by user id or something similar

@ewpratten

user ID is assigned in chronological order, starting at 487 for dfox, dividing would be same as giving more weightage to old users, I have the list of earliest users, read the thread, top 30 earliest users.

@theabbie

yep. I'm familiar with the ID system.

There are the devs, then a large block of space, then some test accounts and early adopters, then a large space, then everyone else.

Just curious

Awe, I'm in top 50? I love you guys <3 :')

@115105109 You're just influential, nothing to be proud of.

@theabbie

how didn't the top 30 earliest user not pick "Fuck"?!

@115105109 Is he still there? It doesn't find deleted accounts @Fuck

@theabbie

yeah, I tried renaming to Fuck, but "it was registered", so I changed to this

3y

77 77 77

@theabbie

> Your just inferential, nothing to be proud of.

I just saw this. That's everything to be proud of.

3y

Wow, lotta ancient souls summoned. 'uge crowd :D

Also good to see Alice back.

@theabbie

And quality is subjective so no worries :)

Wait, I'm 443, that's a good thing as a security engineer ;)

@linuxxx

Yeah, But you have been at top of leaderboard since eternity, so, congratulations.

I'm at #27? About half of that is probably actual content. The other half is just shit memes from Twitter. I have like 3-4 OC memes I made myself. May removing jokes/memes could make it more accurate in a sense.

@hashedram

You are just "influential", it also means you have good taste of memes, anyways, nothing to be proud of.

3y

With all due respect (which is none by the way), could you stop spamming half of devRant just because you discovered an API?

@Condor

Data has already been gathered, so, it's not spamming anymore, we are just trying different ranking factors, I hope you understand.

@theabbie

you did tag him three times in this same post because he was included in your list tho...

@NoMad

But Popularity comes at a COST

@Condor

Sorry, but you should be proud to be on the "wall of fame" thrice

@theabbie

I think he gives zero fucks about popularity. #Same

@NoMad

He should just consider these as awards for serving the community, since the community has made him great, community can also bring him down, It's better if he just accepts all the recognition.

@theabbie

you sound sooooooooo stupid right now.

@NoMad

I am just saying, it's not a big deal, consider it a joke and let go, that's it

3y

What

@NoMad

said - it's just a number at the end of the day. Can't buy groceries with internet points ¯\_(ツ)_/¯

3y

@Condor

These numbers represent your contribution

@NoMad

that means I am same as linuxxx

@NoMad

abbie is again in this mode where his answers are completely nonsensical. Please stop triggering the poor man.

@electrineer

Condor is rebelling for no reason, what's the big deal in creating a leaderboard?

@Alice

Some people are suffering with success

I've been away from devRant for quite some time now and suddenly I'm getting mentions, I was like who the hack dares to wake me up from my slumber... I'm still amazed that I'm in top 50 tho.

@Aitkotw

All the core members have been away, you guys need to make this community great

@theabbie

Don't take it the wrong way but personally, I really liked this community when it was really small. Limited to certain number of people and stumbling into them in every other post was the charm. Now, it's almost like every other social platform. I really support the growth of this community and really happy to see a platform grow where I met some really awesome people.

I still have this app installed and occasionally come to check out some stuff. But not sure if I'll be back.

@Aitkotw

They should disable sign-ups and only allow registration through invites, like lobste.rs, but any community is bound to grow and with growth comes toxic people. We can still make this community fun.

@devTea

I'm surprised that I'm at 55. I mean I check in maybe once or twice in 2 months. I'm insanely afk rn and still doing great. Strange...

3y

@theabbie

wow. I am here, almost after a year or more. Glad to see myself in top 100.

Seriously, never expected this.

Since I am back after years, let me share a secret.

#60 is my ex-teammate and a good friend whom I introduced devrant. Her contents ended up better than mine. And she often teased me for that.